Have you ever wondered if there is a way to find a group of people who are all researching the same ancestor, surname, or geographic area? In this post, I'll explain what the Gedmatch Ancestor Projects are and how they can hep you learn more about your family tree.
Topics covered in this post include:
What the Ancestor Projects are
How to access the Gedmatch Ancestor Projects
How to use the Gedmatch Ancestor Projects
Whether you need to upload your DNA to Gedmatch in order to use the Ancestor Projects feature
Most people view genealogy as a solo hobby, and in a sense, it is. You and your full siblings are the only people who share the exact same set of ancestors.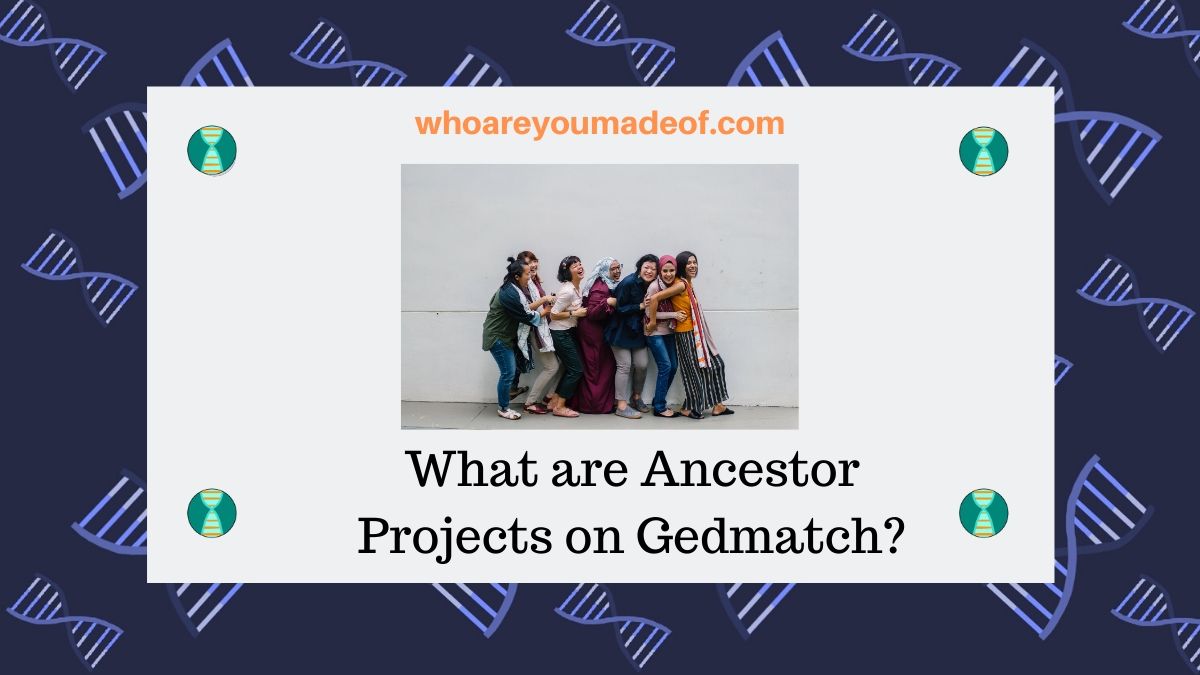 Even so, as you move back in your family tree, you will find that your ancestors have lots of descendants, and some of those people are also researching their genealogies.
In these cases, it's often a good idea – and a lot of fun – to collaborate with other descendants of a particular person or from a particular place in order to see if your combined efforts can help you learn more than you could by yourself.
This leads us to the Gedmatch Ancestor Projects.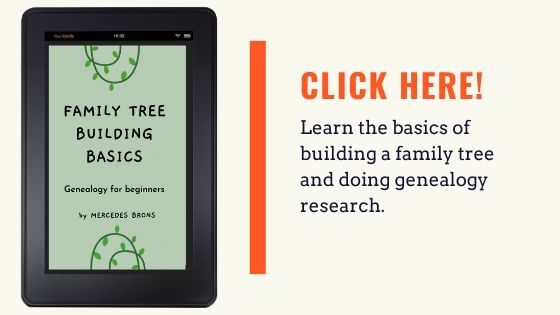 What are the ancestor projects?
Gedmatch Ancestor Projects are research projects dedicated to learning about a specific surname, genealogies from a particular geographic region, DNA from a certain country, emmigrations from and to a particular area, and more. Some projects have large aims, like connecting the entire Beara, Ireland disapora to their current distant relatives still living in the region.
Some projects are very narrow in focus, like the Cape Fear-Waccamaw Heritage Project that seeks information about Native Americans, African Americans, and Caucasians who intermarried in several counties in North and South Carolina.
Another interesting project with a narrow focus is the Albertland Descendants (Port Albert, Wellsford) Project which strives to research the descendants of the first three ships full of immigrants from Britain to Port Albert, New Zealand.
Other projects are very wide in focus, like the Polish DNA Registry group, where the only requirement for membership is Polish ancestry. Another similar project is the Venezuelan DNA Matches group.
How to access the Ancestor Projects on Gedmatch
You can access the Gedmatch Ancestor Projects page by logging into your main Gedmatch dashboard. The link to the Ancestor Projects is under the "DNA Applications" section, as show in the image below: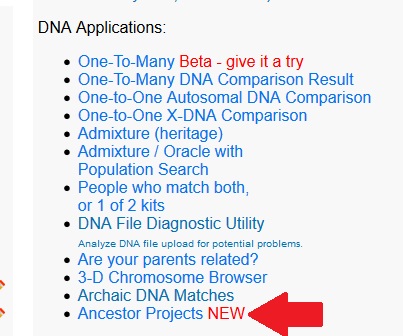 From the Ancestor Projects screen, you can then scroll through and examine all of the different projects to see if there are any that match your current reserch interests.
A handy tip for scrolling through these projects is to use the "CTRL+F" keyboard shortcut. Just press CTRL and hold it down while you press the F key.
You can then type in a surname, country, county, ethnicity, etc, in order to quickly locate projects that might be of interest to you.
How to use Ancestor Projects on Gedmatch
After you have located an Ancestor Project that you think could be helpful to you, or vice versa, you should follow the specific instructions in the "Description" field of the projects list. You should also click the "Request Membership" link in the last field, too, if available.
Each group might have different instructions for joining. Some might require you to join a Facebook group, send an e-mail, or provide a particular detail about your ancestry.
The exact way in which you use the information learned from your ancestor project will depend on:
Your skill level in genealogy
How many people have joined the project (and their skill levels)
The difficulty in researching the project focus
While there is no guarantee that you will find a project dedicated to your research interest, it's certainly worth investigating.
Do you have to have your DNA on Gedmatch to use the Ancestor Projects?
You do not necessarily have to upload your DNA to Gedmatch to particular in an Ancestor Project. There may be specific DNA requirements to join a particular group, however.
For example, some groups require you to provide your kit # upon requesting membership. Not all groups have this requirement.
If you haven't yet tested your DNA, but think you might like to, you can read this post about my recommended DNA testing strategy:
Is there an alternative to the Gedmatch Ancestor Projects?
If you don't like the idea of using the Gedmatch Ancestor Projects, and you use Facebook, you can try to do a search for the surname or region you are interested in + genealogy. The result will might be a group matching what you are looking for.
For example, if you are interested in Irish genealogy Boston, type the following into the search bar:
Irish genealogy Boston
Then, to view only groups that match your search query, click "Groups" on the white menu bar (located directly below the blue menu bar). This will filter all search results to show only groups that match your search.
When I did this search, I found about twelve genealogy groups, with varying numbers of members, related to genealogy.
Conclusion
I hope that this post helped you learn what the Gedmatch Ancestor Projects are, how to access them, and what you might be able to learn. If you have tried these projects out, or have a question about something that you read in this post, I would love to hear from you in the discussion below.
Thanks for stopping by!