Do you have Swedish ancestry? If you do, you might be interested in learning more about your Swedish immigrant ancestors, why they came to America, how to research your Swedish roots, and whether or not a DNA test can help you.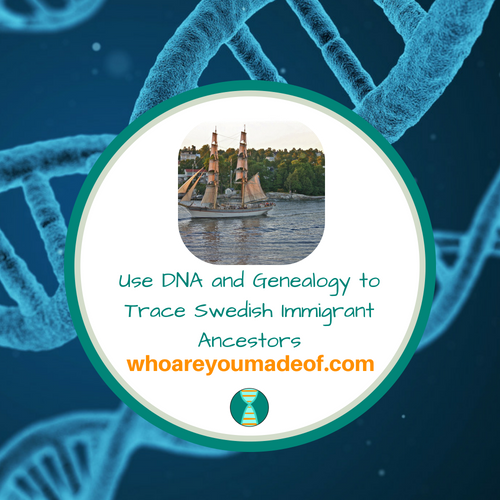 If this sounds like you, this post will help you.
Why did Swedish immigrants come to the United States?
During the 19th century and the early part of the 20th century, more than 1.3 million Swedish immigrants left their native country and settled in the United States.
Despite the fact that many Swedes did decide to leave in search of a better life, emigration was a difficult choice for many, and was discouraged by religious and social leaders. In fact, emigration was illegal in Sweden until the 1830s.
Some of the most common situations in Sweden that led potential migrants to consider leaving?
Oppressive economic and social systems
Limited opportunity to own land
Massive crop failures leading to starvation for some
Religious persecution, especially relevant for those immigrants who came in the first wave of Swedish immigration to America
At the same time, while the situation in Sweden was dire, there were what seemed like endless opportunities in the United States:
Expansive regions of cheap land with farming potential, plus the chance to establish communities – and all with the encouragement of the government as it wanted the population to homestead and push westward
Freedom from obligatory military service
Relative political freedom
Religious freedom
Swedish immigrants were especially well-suited to settle in many of these less-populated areas, especially those in the northern mid-western states. Sweden has cold, harsh winters and people who grew up there were a hearty stock and so settling in remote areas or cold urban cities presented familiar challenges.
Despite this fact, not every Swede was happy with their new life in the United States, sometimes because they were deliberately misled with exaggerated claims about life here in America. As many as 20% of Swedish immigrants ended up returning to Sweden eventually.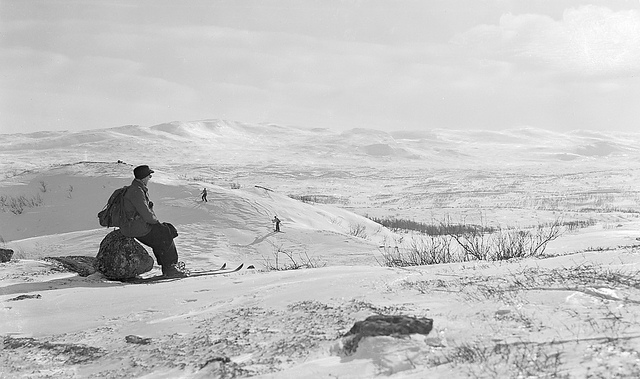 Where did Swedish immigrants settle?
Those Swedes who decided to make a permanent home in America have millions of descendants. As many as 4.3 million Americans claim Swedish ancestry, and it's likely that many more have it and don't know it – which is one reason why I love family tree research.
You never know what you'll find until you start looking.
Swedish immigrants tended to settle in communities with other Swedes, as they had a strong attachment to their language and culture. The states with the largest number of people with Swedish ancestry in the year 2000 were (in no particular order):
Minnesota
Illinois
Wisconsin
North Dakota
Nebraska
Utah
Despite the tendency of Swedish immigrants to settle in certain areas, there were significant numbers of Swedes to make their lives in just about every American state.
If you don't have ancestors from any of the above states, but you are sure that you have Swedish ancestry, no worries! Below, I'll tell you how to learn more about your Swedish immigrant ancestors.
How to find my Swedish immigrant ancestors?
I hope that you are interested in learning about your Swedish ancestors. There is nothing more profound than learning where your family before you lived, and what struggles they went through in order to provide you with the opportunities that you have today.
Step One: Talk to your family about your ancestors
The first step – it's always the same no matter where your ancestors were from – is to talk to your parents, grandparents, and any other older relatives. You will want to learn the following information about your parents, grandparents and (hopefully!) great-grandparents:
Where they were born – as specific as possible, but it's okay if they only know the state or country (Sweden!?)
When they were born – approximate year of birth is okay
Their full name and names of their spouse(s)
Names of all children, if possible
Occupation, if possible
When you have conversations with your family members about your ancestors, you might be surprised at what you learn. In fact, you might discover that a family member has already built a family tree, or has old photographs and documents that might interest you.
No matter what, make sure that you take notes so that way you don't forget important details that can help you in the next step.
Step Two: Put everything that you have learned into your family tree
The second step is to build a family tree. I love using Ancestry for this purpose. It's easy to build a family tree on the site, and it's free. Plus, if you eventually decide to do a DNA test (see below), you can easily connect your family tree with your results to access to more features.
Step Three: Locate your Swedish immigrant ancestors on the US Federal Census
The next step you'll take is to locate your grandparents and/or great-grandparents on the 1940 US Federal Census. My favorite type of record is the US census because once you locate a family in one census record, it's pretty easy to track them through the other census years and learn an awful lot about them.
Since you took my advice and found out the names of everyone in their household, you'll be able to be pretty sure that you've found the right family.
Once you've found them in the 1940 Federal Census, you may be able to find the same family, and all lines of your family, in other census years.
The US Federal Census has been conducted since 1790, but the most helpful records begin in 1850, where details are provided for every person who lives in the household – not just the male head of household, which is helpful because our female ancestors are our ancestors, too.
One thing that you will note on census records is the language and country of birth of the person listed. On certain census years you will also see whether or not a person is a naturalized citizen, and the year of their immigration. This will help you learn where and when to look for immigration records, passenger lists, and vital records for your Swedish family.
Step Four: Begin your Swedish records search
Don't feel overwhelmed by the idea of searching for your Swedish ancestor's birth, marriage, and death records. You can find a lot of information indexed online and in family trees, and check out Family Search for really great resources about researching Swedish genealogy:
Could a DNA test help me learn about Swedish ancestors?
Absolutely! DNA testing is the best way to get a kick start on your family tree research. DNA testing will provide you with:
An ethnicity estimate (also known as an ancestry composition report) that shows you where your ancestors were likely born within the past 300-500 years.
DNA matches, some who have family trees, that can help you know for sure where your ancestors came from, as well as help you learn more about your family.
How does Swedish show up on a DNA test?
People from Sweden generally show up as "Scandinavian" on DNA tests. The image below is from my own Ancestry DNA results. I have 15% Scandinavia, but it's from Denmark, which also shows up under this general "Scandinavia" region.
DNA testing companies are continuously working on refining and improving results in order to offer more specific geographic regions to their customers, so I am expecting my Scandinavia region to change to something more specific later this year.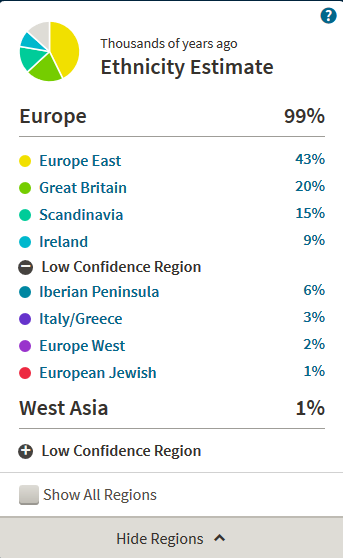 Conclusion
I hope that this post gave you some insight to your Swedish ancestors, and helped you learn how to get started in your family tree research which will hopefully lead to you Sweden.
And, I really hope you consider DNA testing – it's a lot of fun and it really makes genealogy research very interesting! If you have any questions about something that you read in this post, or would like to share your own experience researching your Swedish ancestors, I would love to hear from you in the discussion below.
Thanks for stopping by!