The most exciting part of the Ancestry DNA results to many people is the ethnicity estimate. When you log in to your estimate, there is a little link that says "See All 150+ Regions". In this post, we'll talk about exactly what this means, and what you can learn from the information that you will learn if you click that link.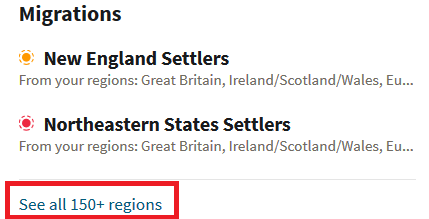 Keep reading to learn the answer to your question, and learn a little bit more about what you can learn from your ethnicity results.
What does "See All 150+ Regions" mean on Ancestry DNA?
When you scroll down to the bottom of your ethnicity estimate on Ancestry DNA, you will find a link where it says "See all 150+ Regions". It's easy to wonder if these ethnicity regions apply to you, or if they are just for general information. If you click on this link, you will be taken to a new page where you will see a list of all of the ethncities that Ancestry DNA tests for. The exact number of ethnicites that Ancestry DNA currently looks for in your DNA is 166, but I would expect this number to grow over the next year.
To recap, the ethnicities that you see at the top of your ethnicity estimate are the ethnicities that apply to your individual DNA, and the "See all 150+ regions" link will take you to a list where you can see all of the regions that your DNA was tested for: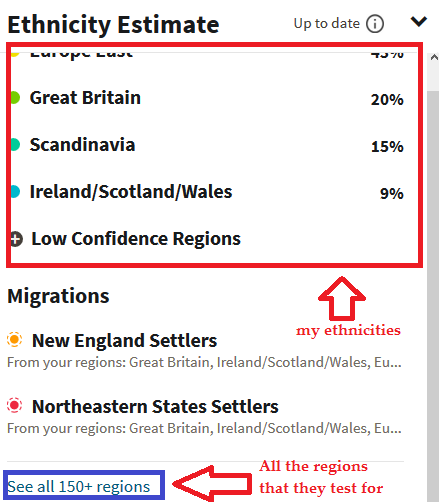 When you click on the link to see the list, you will see a long list of ethnicity regions all organized by continent. You will be able to see which ethnicity regions you show in your own results on this list, too. Next to each ethnicity region is a dot. If you have the ethnicity in your DNA, the dot will have a color. If you don't show the ethnicity in your DNA, you don't have this ethnicity in your DNA.
In the image below, you can see that I do not have any Asia Central DNA, because the small dot to the left is grey. In the same image, you will see that I do have Great Britain in my DNA, so the dot to the left is green: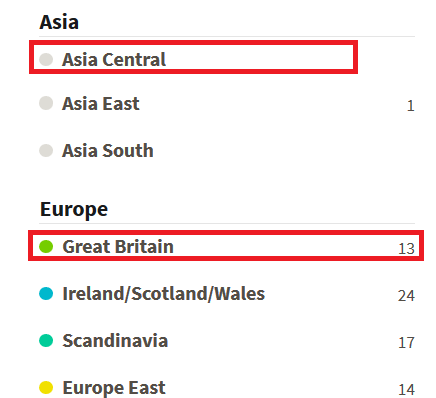 I think it's really useful to be able to scroll through all of the ethnicities and see what I didn't get, along with what I did inherit. There might be a better way for them to explain the "150+ regions" link, since it does seem to be confusing for some people. The benefit of being able to see all of these regions from right inside my ethnicity results is great, however – so I hope they don't take this feature away.
Ancestry DNA: What are those numbers next to the regions?
Another really common question that people have when they see this 150+ regions list is what are those numbers next to the regions? Some people think that they might stand for percentages, especially if they are listed next to an ethnicity region that shows up with a colored dot. In this image below you can see the numbers that I am referring to (they are show in light grey next to the ethnicity region):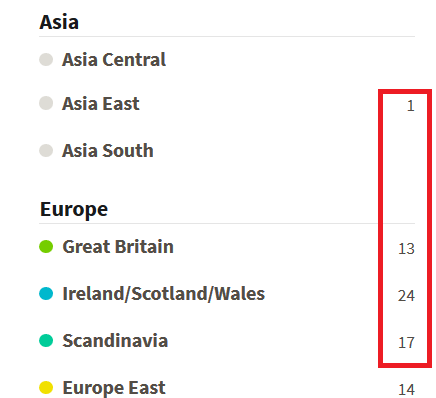 Instead of standing for a percentage, they actually represent the number of sub-regions that Ancestry DNA tests for within those major regions. If you click on any region that has a number out to the right, it will expand and you can see the exact sub-regions that exist in Ancestry's reference samples for the main region. For example, if I click on the Great Britain region, this is what you will see: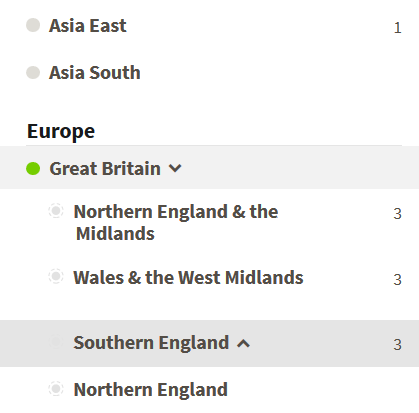 You can now see that Ancestry tests for four distinct sub-regions for the ethnicity estimates that they provide. One interesting thing that you might notice from the image above is that there are grey numbers out to the right of the sub-regions. This is because they have been able to isolate distinct ethnicity regions within the sub-regions, and test your DNA against those smaller areas, as well. If you are curious, you can click on any given sub-region that has a number out to the right to see the smaller areas that they test for: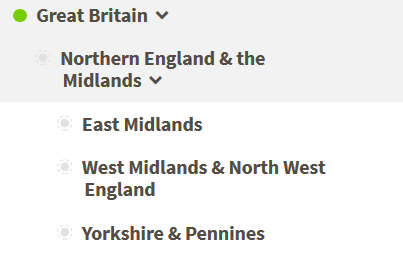 In the image above, you can see that if you click on the Northern England & the Midlands, it will expand and show you three smaller areas within the sub-region of Northern England, which is in the larger area of Great Britain, on the continent of Europe.
Why is the information on the 150 regions useful?
I am an exceptionally curious person, and so I really enjoy being able to have access to the complete list of all of the ethnicities that Ancestry looks for in my DNA. One reason for this is because Ancestry DNA is constantly researching and working towards expanding their database, and so this list occasionally gets longer. I always like to see which new sub-regions they add, or how they expand or combine other regions based on new research.
(Read about why our ethnicity estimates sometimes change on Ancestry)
But aside from satisfying our curiosity, is there any real use to this information? In a sense, this information can be useful. Even though it is true that we don't share DNA with all of our ancestors, we do share DNA will all of our more recent ancestors. And in certain circumstances, knowing which sub-region (or sub-region within the sub-region) you match and don't match can help you determine if what you know about your family tree is correct, and where you might have the best luck searching for your ancestors.
For example, my daughter has 27% Native American, who she inherited from her father. Her father was born in Guerrero, Mexico. Ancestry DNA currently tests for 30 sub-regions in the Native American region, which expands both of the continents of North and South America. While they don't have a region that covers the part of Guerrero where her father was from, it is useful to know which regions my daughter doesn't match. Since I have seen many other results from Mexico that seem to be fairly accurate, I think that I can infer from my daughter not matching any of the other nearby regions that my daughter's father's family did not move to Guerrero during any time in very recent history. This is good, since I now know that I can and should expect to find records for my daughter's ancestors in their local region of Guerrero, Mexico.
Conclusion
I hope that this post helped clear up the meaning of the 150+ regions, and you have a good idea of how to use the information contained within the list of all of the regions that Ancestry tests for. While it's not necessary to have an Ancestry subscription for viewing your Ancestry DNA results, you do get a lot more from it.
Consider trying the two week free trial (available through the following link). If you end up sticking with it, I will get a really small commission which helps me support this website:Ancestry Free Trial
If you have any questions, comments, concerns, or would just like to share your story, please feel free to leave me a note below – I hope to hear from you.
Thanks for stopping by!