If you tested with 23andMe, you might wonder if your results can be used for genealogy. Rest assured, your 23andMe results can be very informative for genealogical research.
In this post, I'll teach you how to use your 23andMe results to build, or expand, your family tree.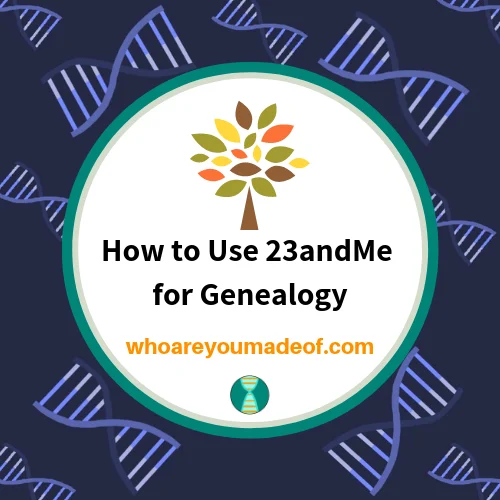 Which element of 23andMe results is most helpful for learning about your family tree?
While all aspects of your 23andMe results are interesting and informative, the element that is most helpful for building your family tree is the DNA relatives list. This list is otherwise known as your DNA match list.
DNA matches are like valuable gems when it comes to family tree research. Once we learn how we are related to our DNA matches, we can add their family lines to our family tree.
Sometimes, our DNA matches have done more research than we have about our shared ancestral lines, and their family trees can help us build our trees even further back.
How can your 23andMe DNA matches help with genealogy?
Some of the information we can learn from our DNA matches will be readily available, written by them and noted directly on their profile. Other times, we might have to dig a little bit to determine how we are related to our matches, and what we might be able to apply to our family tree.
Find out what your 23andMe DNA match includes on their profile
The first thing you should do is try to find the information directly listed on your DNA match's profile. The type of family tree information that you might find on your DNA match's profile includes:
Birth place of maternal and paternal grandparents
Birth places of other ancestors, if known
Surnames in family tree
Link to family tree
It is important to note that 23andMe doesn't require users to include this information, and some of your DNA matches may not know enough about their family history to do so. Additionally, not everyone is aware that they can include a link to their family tree on their 23andMe profile.
If you do get lucky and find DNA relatives who have included this information on their profile, that's great! It means that they know something about their ancestry, and they might be interested in learning more by connecting and sharing information with you.
This is a great opportunity to check your own profile to be sure that you have included as much information as you can.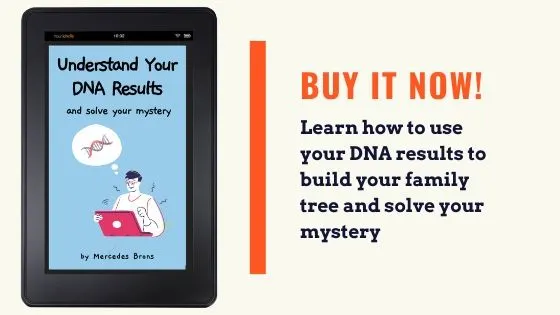 How 23andMe matches can help you build your family tree
I hope that you have already begun building your family tree (I recommend Ancestry for building trees) on another site. As you learn about your DNA matches, you can add their family lines to your tree.
For example, if you find a third cousin on 23andMe, and identify that your great-grandparents were siblings, you can add these individuals to your tree:
Your great-great grandparents (if they aren't already on your tree)
The sibling of your great-grandparent
Other siblings of your great-grandparent, if you learned about siblings who were previously unknown to you
The grandparent of your DNA match who is descended from your common ancestor
The parent of your DNA match, if known
Your DNA match, and their children, if possible
By identifying your connection to only one third cousin, you will add at least 4-6 people to your family tree, and perhaps even more!
This family tree building technique is sometimes called "building your tree wide", and it is the best way to build a complete family tree. It also makes it easier to identify your connection to other DNA matches in the future.
How to figure out how your 23andMe DNA match is related?
If you can't find much information about your 23andMe DNA match, you might be interested in this post:
I'm putting together a post specific to determining how your 23andMe DNA matches are related, and I'll update the link once it's done 🙂
Can the 23andMe Ancestry Composition help you with genealogy?
I always stress that 23andMe DNA matches are the most helpful aspect of DNA results when it comes to genealogy, but that doesn't mean that your ancestry composition report won't help you at all. There are a few ways in which your ethnicity estimate can, indeed, point you in the right direction when it comes to building your family tree:
Ancestry regions shared in common with your DNA matches can help you determine how you might be related, or help you determine how you are not related
23andMe gives very specific ancestry composition reports, and if you have significant ancestry from a particular region, you might see this indicated on your 23andMe ethnicity estimate. This can help you focus your research
Unexpected regions can help us know which lines of our tree need more research
Upload your 23andMe data to other sites to learn more about your family tree
23andMe allows you to download your raw DNA data, which can then be uploaded to other websites. These other sites can provide you with more DNA matches and access to DNA analysis tools.
My favorite sites to upload to include:
Have you taken a 23andMe test yet?
If you are reading this post in order to learn which DNA test you should take to learn about your family tree, and you have decided that 23andMe is the best test for you, you can use the link below to get your test.
If you use a link below to make a purchase, I may get a small commission at no extra cost to you. It helps support the education that I do on this site, so thanks!
Make new family connections and discover your DNA story together. Order your DNA test kit today using this sponsored link at 23andme.com. Your order will help me support this site at no extra cost to you.
Conclusion
I hope that this post has helped you understand how helpful your 23andMe results can be for genealogy research, and how to go about using them to build your family tree.
If you would like to share your own experience using your 23andMe results to build your family tree, or if you have a question about something that you read in this post, I would love to hear from you in the discussion below.
Thanks for being here today.