Are you ready to learn how to upload your family tree to Gedmatch? Uploading a your family tree to Gedmatch will provide you access to some really neat genealogy tools, as well as prove very helpful to your DNA matches in determining your relationship.
In this post, you will learn about Gedcom files and how to upload your Gedcom file to Gedmatch.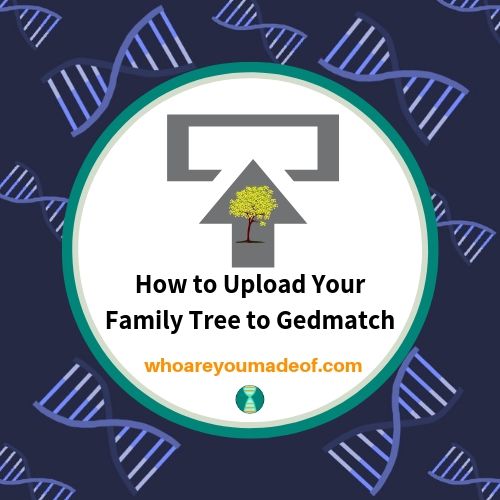 In order to follow the process that I describe below, you will need to download your Gedcom from the online website where you made your family tree, or export it from the family tree software that you use. It should also be noted that you should make sure that living people in your family tree are set to private (or simply replace their names with the word "Private") before you export or download your tree.
This is important because you will not be able to make any changes to your family tree once you are on Gedmatch, and it is best to protect the privacy of living individuals as best as you can.
What is a Gedcom?
It's sounds like a really high-tech word, but it isn't. It's just an acronym that is short for "genealogical data communication". In other words, it's a special type of file that is designed to standardize genealogical data so it can be viewed and/or edited across software platforms and systems.
Another valuable contribution to genealogy made by the Church of Jesus Christ of Latter Day Saints, the Gedcom file is generally able to be read across platforms, with some exceptions.
In other words, a Gedcom is a special type of file that contains your family tree. Gedmatch only accepts Gedcom uploads that have the .ged or .GED extension.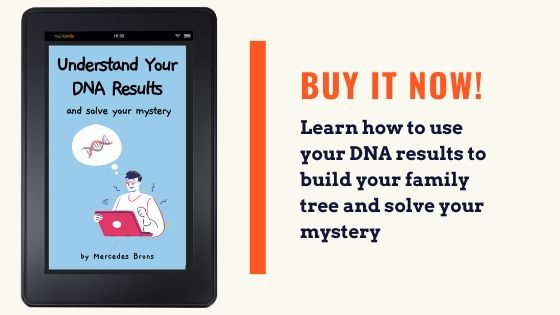 How to upload your Gedcom to Gedmatch
Once you have obtained your Gedcom, you should create a Gedmatch account if you don't already have one. Then, from the main dashboard on Gedmatch, you will click on Gedcom Genealogy Upload, as seen in the image below: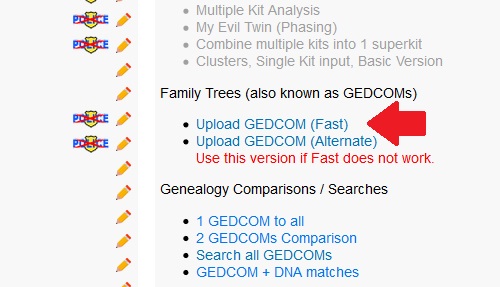 You will then be taken to a new page where you will enter in the relevant information for your Gedcom file: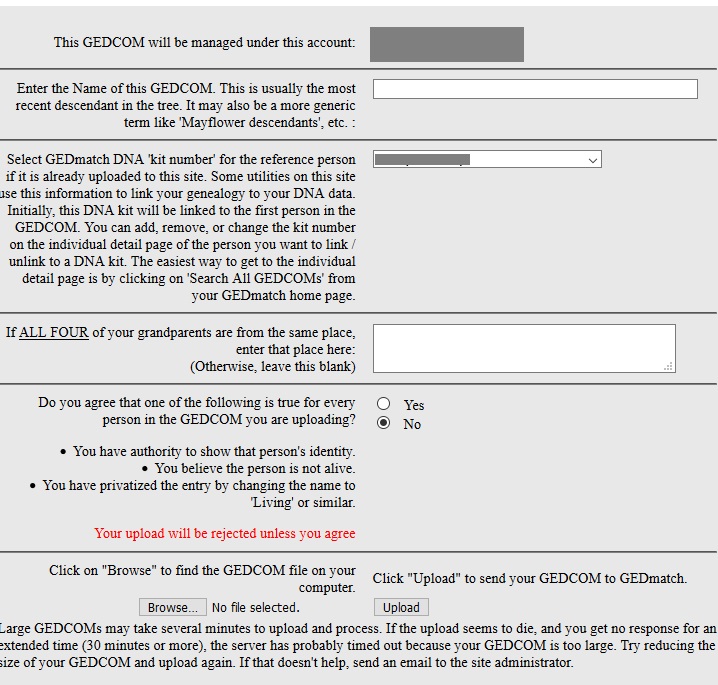 Follow the following steps to fill these fields out correctly:
Enter the name of your family tree as you would like it to be publicly named on Gedmatch
If you have uploaded your DNA to Gedmatch, you can select your name in the dropdown menu for Gedmatch "kit number"
If all four of your grandparents are from the same place, you can let Gedmatch know for research purposes. Otherwise, leave it blank. It is not required to fill in this field.
You must indicate whether you have the permission of living individuals to display their identity, or whether you have marked them as "living" before uploading (read here for how to do it). If you don't choose yes, you won't be able to complete the upload.
Then, click "Browse" to choose the Gedcom file that you would like to upload.
Once you've chosen the right Gedcom file, click "Upload".
The upload will only work if you have chosen a file. Your screen will look something like this once you've chosen a Gedcom file, and you can then click "Upload":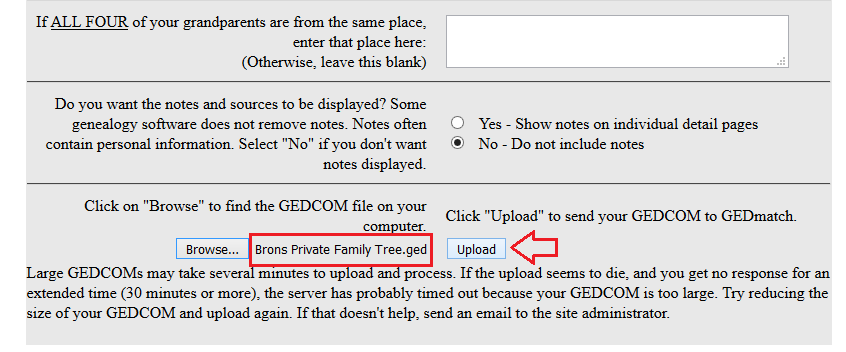 Once you click upload, and the tree is done uploading, you will then be asked to choose a "point person" in the family tree. Choose the option to have the person whose DNA kit you attached the Gedcom to as the point (i,e. home) person.
Once you've done this, you are 100% done and you can take advantage of all of the extra tools available to you on the site. Plus, you've done a huge favor to your DNA matches!
Conclusion
I hope that this quick post helped you understand how to upload your Gedcom file to Gedmatch. If you experience any trouble or have any questions about something that I wrote here, please feel free to leave me a comment below.
Thanks so much for stopping by!