If you have ever uploaded a Gedcom to Gedmatch, or are considering doing so, you might be wondering if there is an easy way to mark your living relatives as private from within Gedmatch.
As it turns out, there is not currently a way to do so once you have uploaded your Gedcom to the site. In this post, I will teach you a simple workaround that will help you protect the privacy of your living relatives, as well as your own.
Should I be concerned about privacy on Gedmatch
In general, I don't think that most people should be very worried about their privacy on Gedmatch. The site is very secure, and the information contained within the DNA kits are relatively useless for anyone who isn't using it to research their family tree or searching for DNA relatives.
The one aspect of privacy on Gedmatch that we could all improve, however, is in our family tree (our Gedcom) that we have attached to our family tree on the site.
Before I begin, I want to make sure that I am clear: I really, truly believe that most people should consider uploading a family tree to Gedmatch. I wrote a post about this exact issue, where I list several reasons why you should upload a tree to Gedmatch.
With that said, I believe that you should take the extra steps to protect the identities of your living relatives, as well as yourself.
What got me thinking about this?
My grandmother had an experience recently that made me examine the digital footprint that I leave online. Someone called her up, pretending to be my son.
The guy knew my son's name, but called himself a "grandson", not a great-grandson, like he is. The stranger asked my grandmother for money to help get him out of an emergency, and my grandmother, very concerned about my son, immediately went to Western Union to wire the money.
Fortunately, she realized what was going on before they picked up the money, and so she was not scammed out of anything but a few hours of her time.
If this particular stranger had had access to my family tree, he might have been able to make up a more plausible story and perhaps succeed with his scam. It got me thinking about my genealogy hobby, and if my obsession with research and finding the truth in my tree could have any negative effect on the people that I care most about: my living, breathing family.
I realized that my Gedcom on Gedmatch had living family members listed, including my children and other younger members of my extended family. Naturally, I deleted it and began to try to figure out a way to import my Ancestry tree to Gedmatch with living people marked as private.
The following steps to mark living people as private could be performed on most family tree websites or software platforms. I use Ancestry, so the explanation will be specific to that site.
If you didn't make your tree with Ancestry to begin with, you could still use it to perform this process. And who knows, maybe you will end up liking it – I know that I do!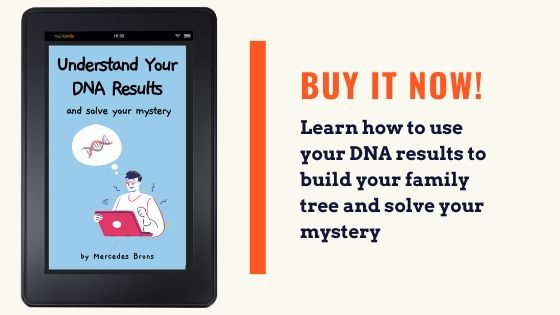 Easy way to mark living people in a Gedcom as private for Gedmatch
I hope that someday we will be able to edit our family trees right from Gedmatch, but in the meantime (and maybe forever) we will just have to make sure that our family trees are exactly how we want them before we upload them to the site.
The following steps will walk you through the process of changing your living family member's entries to private.
Step One
If you already have a family tree on Gedmatch (a Gedcom), and you know that living people are not private, you should proceed to delete your Gedcom from Gedmatch. You can access the page to manage your Gedcom resources at the very bottom left of the main screen on Gedmatch.
Click where it says "Click HERE to manage other GEDCOM resource details", as shown in the image below:
Step Two – Download your family tree website or export it from your software
Download or export your family tree from Ancestry or the software or website that you used to make your family tree. On Ancestry, the steps are as follows:
Access your family tree settings from your main family tree page: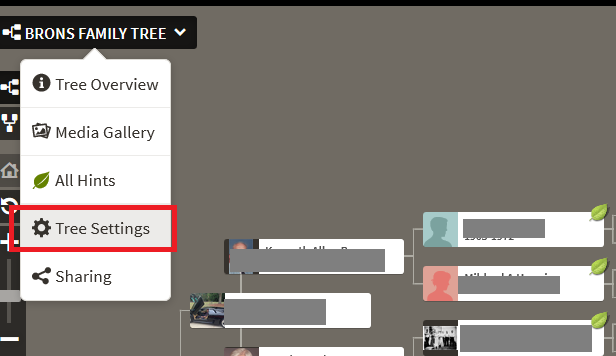 Click the Export Tree button at the very bottom right of the screen: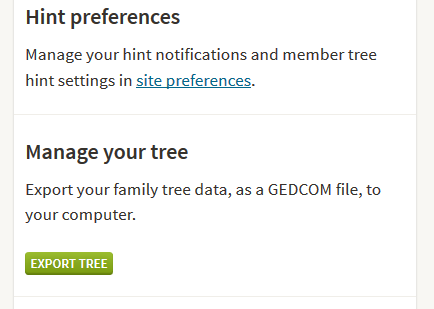 One you click the Export Tree button, it will take a few minutes for the system to prepare your Gedcom file. A new button will appear when the file is ready, and it will say "Download Your Gedcom File" once it is ready to be downloaded.
Step Two – upload it to your preferred family tree website, or import it back into your software
Once you've downloaded or exported your Gedcom to your computer, you now need to upload it back to Ancestry (or whichever site you use). You will give it a different name than your regular tree so that way you know which tree you are modifying to show living people as private.
On Ancestry, the steps you need to follow to upload your Gedcom file as a new tree are as follows:
Click on the "Trees" tab on the top menu, and then click on "Create and Manage Trees", as shown in the image below: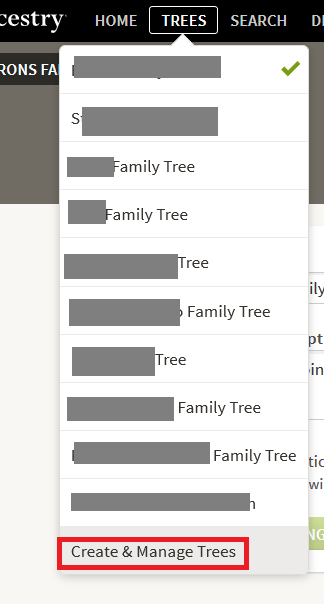 On the Create and Manage Trees page, you will see all of your family trees that are on your account. At the very bottom, you will see an option to upload a Gedcom file.
Choose this option:

Once you upload your Gedcom, you will be given the option to name your tree, and whether or not it should be available for searches on Ancestry. I like to mark it private, since I already have a public tree on Ancestry, and this is basically a duplicate.
I delete my duplicate tree once I am done with this process.
Step Three – Change all of the names of living people in your tree to "Private"
Depending on how big your tree is, this step might take you a while. Basically, you want to visit the family tree entry for each living person (don't forget spouses, siblings, and children of your living relatives) and change their first name to "Private" and their last name to "Private".
Delete their dates of birth, too.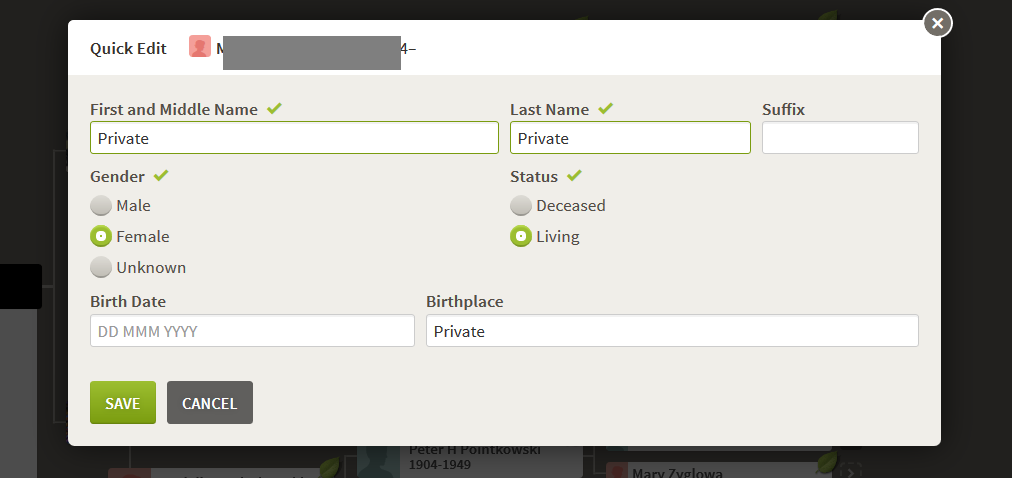 Step Four – Export your tree again and upload it to Gedmatch
The final step is to follow the same process that you used originally to export this newly "scrubbed" tree, and upload your Gedcom file to Gedmatch. If you would like instructions on how to upload your Gedcom file to Gedmatch, I wrote a post about how to upload your tree.
Step Five – Optional
Consider deleting this new tree that you made from Ancestry, or whichever site you used to make it on. If you want to, you can always upload your "real" tree to Ancestry, since living people are automatically marked as private on that site and don't show up in search results.
Conclusion
I hope that this post gave you some good ideas about how you can protect your privacy and that of your family members. If you have any questions or concerns about something that I wrote here, or you would like to share your own story about how you protect your privacy on genealogy sites, I would love to hear from you in the comments below.
Thanks for stopping by!