Do you have Ancestry DNA vs 23andMe on your mind? In this post, find out which DNA test you should take. These two tests offer something slightly different, and I'll help you figure out which one is best for you.
If you are thinking about taking a DNA test and already know that you should decide between 23andMe and Ancestry DNA, you are already on the right track! These are both great companies offering a really great product.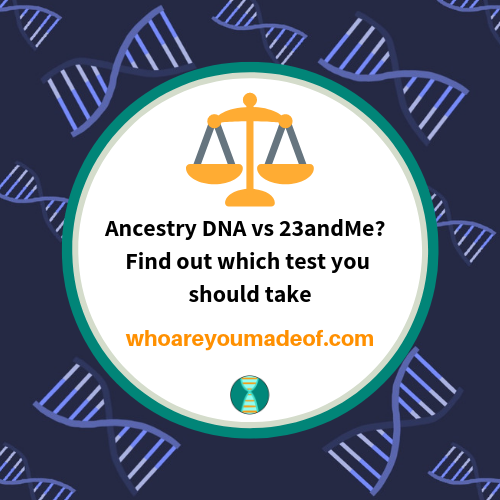 The only problem is that it's hard to choose between two good choices. In this post, you will learn more about what you can expect from each company in order to help you decide which test you should take.
DNA results, which is what you'll get if you take one of these DNA tests, typically consist of two main parts:
Ancestral breakdown, which is also called an ethnicity estimate or ancestry composition
DNA match list, which is also referred to as a DNA relatives list
Is Ancestry or 23andMe better for DNA testing
Both 23andMe and Ancestry DNA have additional elements that come along with DNA results, and they each have a different focus.
In the rest of this post, I'll walk you through of these aspects of 23andMe and Ancestry DNA results so you can decide which DNA test best suits your needs.
Is the 23andMe or Ancestry ethnicity estimate better?
The best way to compare the 23andMe and Ancestry DNA ethnicity estimates, also called ancestry composition reports, is to take a look at the results of someone who tested with both companies and who has a DNA-verified family tree going back several generations.
Example of Ancestry DNA and 23andMe comparison
Below is an ethnicity estimate from Ancestry DNA: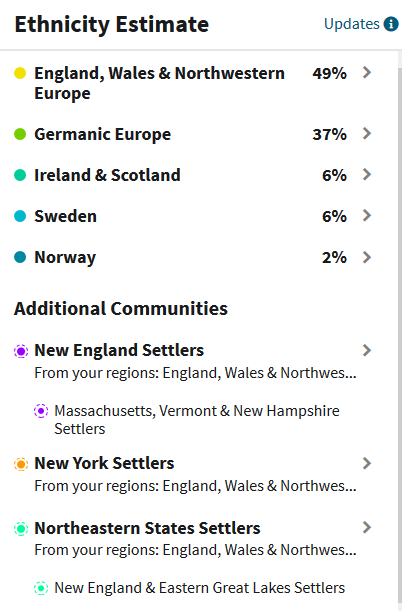 Our test taker had always suspected distant Scandinavian ancestry, and it was interesting to see the Ancestry DNA identified it as Norway and Sweden.
Some people who take the Ancestry DNA test with relatively recent ancestry from a particular region will show more detailed results within a region. There are more than 500 total regions and sub-regions that could show up in your results, depending on your unique roots.
My favorite part of the Ancestry DNA ethnicity estimate is the section of "Additional Communities". These are migrations that Ancestry DNA has identified closely match our test taker's DNA, and are very accurate.
Example of 23andMe results to compare with Ancestry DNA
The image below shows the ancestry composition of the same person on 23andMe: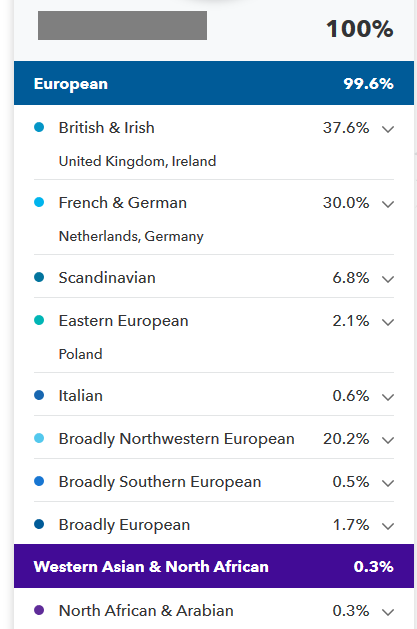 I have two favorite parts of 23andMe ancestry composition reports. First, I really like how they report small percentages (even tiny!) of regions that they might not perhaps be 100% certain about. The mystery of learning about those trace regions is very interesting to me, and I find that I end up learning a lot about my family history trying to track them down.
Second, I enjoy the detail of the ancestry composition results. Most people who find themselves matching a particular region with high confidence will also be able to see which country, and even regions (like counties) within those countries that most closely match their DNA. I think this is helpful for genealogy research.
Take a peek at this part of the results below. Our test taker has ancestors from Gronigen – sweet!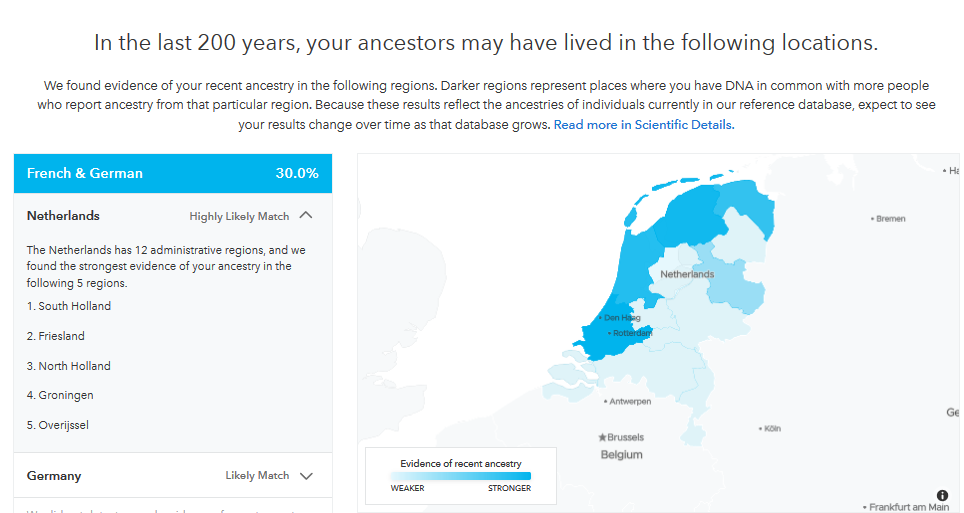 Does Ancestry or 23andMe match better with family tree?
Before we continue to the family tree information below, I'd like to take one moment to explain how ethnicity (and autosomal DNA) is inherited. Most of us know that we inherit 50% of our DNA from both of our parents. What many people might not know, however, is that our parents didn't pass down 100% of their DNA to us. We got a 50% "randomly selected" portion of their genome.
If you imagine that every generation, some DNA gets left behind (i.e. not passed down to descendants), we can understand how these ethnicity estimates will tell us information about the DNA that we did inherit. Since it can't tell us about the DNA that we didn't inherit, it won't exactly match our family tree.
Below is a list of where the great-great grandparents of the person whose results were shown above were born:
7 great-great grandparents have British Isles ancestry (born in US)
1 great-great grandparent was born in England
1 great-great grandparents were born in Poland
3 great-great grandparents were born in Germany
4 great-great grandparents were born in the Netherlands
I did the math – our test taker's ancestry breakdown is shown below (in percentages):
50% British Isles
6.25% Polish
18.75% German
25% Netherlands
Keeping in mind that we don't inherit equal amounts of DNA from all of our ancestors, which ethnicity estimate seems most accurate to you? Which one do you like the best?
Does Ancestry DNA or 23andMe have better DNA matches?
While most people initially become interested in DNA testing in order to see their ethnicity estimate or ancestry composition report, my favorite (absolutely favorite!) part of DNA results are the DNA matches. On 23andMe, they are referred to as DNA relatives.
23andMe and Ancestry DNA both have a lot to offer in the DNA match department. Ancestry DNA has the largest non-governmental database of DNA samples in the world, and 23andMe offers a chromosome browser and mtDNA/Y-DNA information about your matches. This means that you'll be able to find more matches on Ancestry DNA, but be able to learn a little more about the matches that you find on 23andMe.
When thinking about which test to take, I recommend thinking about what you are hoping to get from your DNA match list. If you think you will be interested in genealogy or are looking for biological family, having lots of DNA matches is a great way to build your tree. Having access to a very large DNA database gives people who test with Ancestry DNA the advantage.
People who test with 23andMe will still have access to a very large database, and can still enjoy this particular benefit of DNA testing. 23andMe users can add family tree information (like surnames and countries of ancestors) to their profile, as well as links to family trees, so genealogy information can still be gleaned from matches.
Does Ancestry DNA give you your maternal and paternal haplogroups?
As I mentioned earlier in the post, DNA results from both Ancestry DNA and 23andMe come with some additional elements that you don't get with every company.
With 23andMe, for example, you will learn your mtDNA haplogroup, and if you are male, your Y-DNA haplogroup. Haplogroups trace your maternal or paternal lines (i.e your mother's mother's mother's line). This can tell you information about your direct maternal and paternal lines, and can be used in some genealogical research.
Which site is better for genealogy – 23andMe or Ancestry DNA?
Ancestry DNA, on the other hand, has more of a focus on genealogy. On Ancestry, you can connect your DNA results with your family tree and use ThruLines, one of their new features. It's a helpful tool that can help you learn how your DNA matches are related to you, which could assist you in expanding your family tree.
Should you do both Ancestry DNA and 23andMe?
I hope by this point in the post you saw something that you liked about either one of the companies and have chosen your test. If you are like me and want the best of both worlds, why not do a test with both companies?
Testing with both Ancestry DNA and 23andMe gets your DNA into the databases of both companies, where you will be likely to find the highest number of DNA matches. You'll get both ethnicity estimates which will allow you the best window into your ancestral roots. Plus, you'll get your mtDNA haplogroup (and Y-DNA haplogroup if you are male). Finally, you can use your results to build your family tree on Ancestry using what you learn on both sites.
How to get your Ancestry DNA and 23andMe tests
You can use this sponsored link to order your Ancestry DNA kit: Discover the story AncestryDNA® can tell.
If you have decided to get a 23andMe test, you can use the following link to get your test. I might get a small commission at no extra cost to you, which helps me keep writing and teaching about DNA testing: Make new family connections and discover your DNA story together. Order your DNA test kit today at 23andme.com.
Conclusion
I hope that this post has helped you decide between Ancestry DNA and 23andMe, and that you now know which test you'll take. If you have any questions about something that you read in this post, or if you would like to share your own experience deciding between these two companies, I would love to hear from you in the discussion below.
Thanks for stopping by!