Are you frustrated because you have lots of Ancestry DNA matches with no trees? In this post, I'll show you several things you can do to learn about your DNA match with no tree.
No tree? No worries! If your DNA match only has a small tree, this post will help you, too.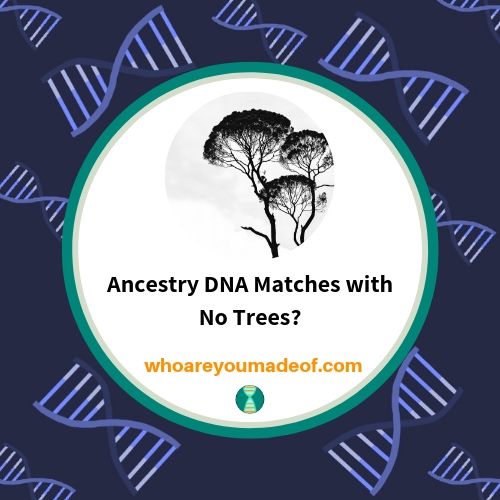 Towards the end of this post, you'll read an important tip for making it easier to identify your "treeless" DNA matches in the future. Don't miss it – it might save your future-self hours of work!
Top five ways to learn about your Ancestry DNA match with no tree
The following are the top five tips for learning about your Ancestry DNA match and figuring out how they are related to you.
How much DNA do you share with your match?
When you are trying to figure out who your DNA match is in relation to your family tree, the first thing that you should do is understand exactly how much DNA you share.
Understanding the amount of shared DNA can help you estimate your relationship with your match. Once you have estimated your relationship, you will know approximately how far back in your mutual trees you should look for a connection.
The DNA that we share with our matches is measured in centimorgans, and you can find this information on your DNA match list or on their DNA match profile.
In the image below, you can see the DNA shared (in centimorgans) that I share with one of my cousins:

As you can see from the image above, I share only 43 centimorgans with my DNA match. These 43 centimorgans are spread across 3 DNA segments, which likely means that we are distant cousins.
In order to figure out how I am related to a distant cousin, I will need to know a lot about both of our trees. The connection might be hard to spot.
You can learn about centimorgans and how to estimate your relationship to a match using shared DNA in this post:
Check your DNA match's profile for an unlinked tree
Now that you understand more about how much information you need to learn, you can start to explore the resources available to you to see what you can discover.
Many people who do DNA tests with Ancestry DNA don't know that they can build a family tree and attach it to their DNA results.
If your DNA match has a family tree that is unattached to their DNA results, it will show up in your DNA match list like this:
It is important to keep in mind that your DNA match might have family trees on their account that are not theirs. They might build trees for friends, relatives, or even professionally.
This means that an unlinked tree may or may not provide useful or relevant information to your family tree. It's still worth checking, though!
I have found lots of useful information on my DNA matches unattached family trees.
Contact your DNA match
It's time to grab the last of the low-hanging fruit. There is one more easy thing you can do to learn a little bit about your DNA match's family tree:
Send them a message via the Ancestry DNA message button on their DNA match profile.
You don't need to have an Ancestry DNA subscription if you click the contact button from your DNA match profile. If you try to contact them from their Ancestry profile, you do need a subscription.
If you contact your match, you might find that they are wiling to share the names of their grandparents with you. I've even had matches offer to send me pedigree charts.
You never know until you ask!
Your message should be very polite, and I would also suggest offering a little bit of information about your own family tree. If you have figured out which side of the family your match is on, you can provide them with some of the surnames in your family.
Shared matches with family trees
Hopefully, you've learned a little bit about your DNA match at this post. Now, you can start to explore your shared matches to see if you can spot patterns or links between your shared matches.
In the image below, you can see how to access your Shared Matches on Ancestry DNA's new DNA match profile:
To access and learn more about shared matches on Ancestry DNA, read here.
The top matches that show up on the "Shared Matches" tab will be the most helpful to you.
Check through the matches to see which matches have trees attached to their DNA results, and see if you spot any surnames that you may have already seen in connection to your DNA match.
This process is like a puzzle. Each detail makes up a new piece!
Family tree posted on another site
Your DNA match may have a favorite website where they prefer posting their family tree. They might even have their own family tree website!
You can check other sites where you have uploaded your DNA to see if they also show up as matches, or popular websites for building family trees.
You can also check for family trees posted by matches that you both share in common.
Want even more ideas for how to figure out how your Ancestry DNA match is related?
For more ways to figure out how your DNA match fits into your family, read my post: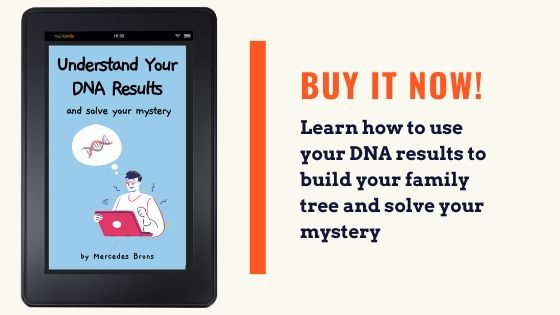 Building your family tree "wide" can help you learn about your DNA matches more easily
At this point in this post, you may have noticed a common thread: Family trees. They are key to our research as genetic genealogists.
Most, if not all, of the best ways to learn about your DNA match (whether they have their own tree or not) is finding a family tree that contains information about their immediate or extended family members.
I recommend that as you learn about new DNA matches, add them and their ancestors (those who are descended from your common ancestor or ancestors) to your family tree. The process of adding these extended relatives to our tree is called building a tree "wide".
Note: Just be sure to mark living people as "living" in your Ancestry DNA family tree to protect their privacy!
The process of adding the children, grandchildren, and great-grandchildren (and so on, and so on) of the siblings of your ancestors to your family tree is called building a "wide" family tree.
In addition to having a more complete family tree, there is one additional benefit to this:
The wider your family tree, the more easily you will be able to identify more DNA matches in the future
I wrote an entire post about this topic, which you can read by clicking on the link below:
Conclusion
I hope that this post has helped you feel more confident that you can learn about your DNA matches with no trees. Sometimes, we do get stumped on a match, but the suggestions in this article should provide you with some success 🙂
If you have any questions about something that you read in this post, or if you would like to share your own ideas about determining your relationship to or identity of a match, please join us in the discussion below.
Thanks for stopping by today!