A Book About DNA and Genealogy?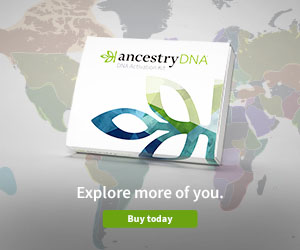 Are you looking for a book about DNA and genealogy for absolute beginners? If so, did you do your DNA test with Ancestry DNA? My book, Your DNA Mystery: Solved, was written for beginners in genetic genealogy – people who want to learn more from their DNA results, just like you. It's only available in an electronic form which means that no physical book is available. In this post, I'll tell you a little bit more about the book, and how it can help you:
Understand your DNA results, from your ethnicity results to your DNA matches
Build your family tree
Learn the basics of genealogy research
Find other places to upload your DNA online to get more matches and information about your DNA
The title of the book refers to solving a "DNA mystery", but it can help you even if you have no super exciting mystery and have a regular-type family history like most of us do. I called it a "mystery" because family tree research often leads to more questions than answers, and DNA is one of the most reliable methods to answer questions about our ancestry that might never be answered any other way.
A DNA and genealogy book for beginners?
I wrote this book with the beginner in mind.  If you do a Google search for genetic genealogy, you'll immediately run into unfamiliar terms, complicated scientific explanations, and confusing explanations about different types of DNA testing. 
In my book, I only discuss one type of DNA testing:  the type of test offered by Ancestry DNA. If you tested with any of the other major DNA testing companies, you will find this book helpful.
Whether you are thinking about doing a DNA test for genealogy, or already got your results back and they make no sense to you, this 106-paged book will help you get the most from your test results. I explain every concept with simple detail from start to finish.
What can you learn from this genetic genealogy book for beginners?
In Your DNA Mystery: Solved, you'll learn:
How to get started with DNA testing, and why it's so great for family tree research
Why it's best to build your family tree on Ancestry
Step by step instructions on how to build your tree on Ancestry
Basics on how DNA is inherited, as well as how to understand centimorgans
How to use your DNA matches to build your family tree or make it bigger
Ideas for advanced ways to analyze your DNA, including using Gedmatch
Learn how to upload your Ancestry DNA to other websites – for free!
I talk a lot about Ancestry and Ancestry DNA in my book because I use, trust, and recommend their services – but it's important to mention that this book is not affiliated with, sponsored or endorsed by Ancestry in any way. If you didn't test with Ancestry DNA, don't worry – there is still a lot of information in the book that you can use to understand your own results and I would still recommend that you build your tree on the Ancestry site.
Bonus materials to help you build your family tree and organize your DNA matches
Once you really get into the thick of your research, you'll realize that you need a great way to organize your DNA matches and keep track of information that you learn about each individual ancestor. That's why I decided to include some bonus materials with this book that help you with this:
Family interview worksheet: a great way to know which questions you should ask your older family members and write down and keep responses for your records)
Ancestor biographical information worksheet: a perfect place to write down all of the information that you have learned about each of your ancestors, and remind you of the type of information that you should be trying to locate – all to help you get further back on your family tree
DNA match spreadsheet organizer – where you can write notes and details about your DNA matches, including whether and when you have contacted them, contact information, and other details about your relationship.
What's the best thing about this DNA basics book?
You can download Your DNA Mystery: Solved almost instantly, pay securely via PayPal and start reading it right away. And you'll get great support from me if you have any issues with your purchase or have a question about something that you read. I'm here to help!
Conclusion
I hope that this post helped you understand a little bit about my book, and that you check it out. If you have any questions about something you read here, I would encourage you to leave a comment below.
Thanks so much for stopping by today!