In this post, you will find the most popular blog posts of 2020 on the Who Are You Made Of (WAYMO) blog. It's a great way to see the variety of topics covered on the site, as well as to explore what is popular.
Did you know that there are many hundreds of articles on this blog? The topics covered range from understanding your DNA results to building your family tree.
The reason that I make a post like this each year is to give readers a chance to see what others are reading. There is a good chance that there are articles on this site that might be helpful to you.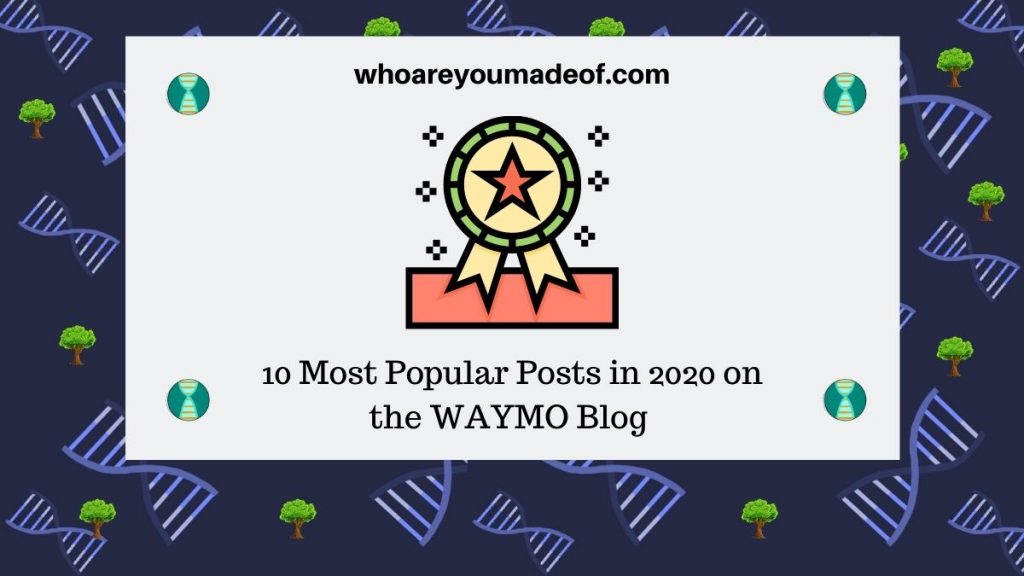 So, by reading through this short list of popular posts, I hope that you are inspired to read something you haven't read before.
The posts below account for only 1.8% of the total library of posts on the blog. There is so much to explore, and each of these posts will provide links to point you in direction that will take to articles you haven't yet read.
Without further ado, please enjoy the ten most popular posts for the year 2020 on the WAYMO blog. I know that 2021 will bring a completely new list of posts, as well as many other wonderful things for all of us.
#1 What Does Total Half-Match Segments (HIR) Mean on Gedmatch?
This article provides an explanation for the phrase "Total Half-Match Segments" on Gedmatch, along with examples to help understand the concept more thoroughly. Almost all of the segments we share with our DNA matches are half-match segments, and you will learn why in the article:
I'm so glad that this is the most popular article of 2020, since it means that readers are really wanting to understand the technical concepts in their DNA results.
# 2 How to Know if You Have Endogamy in Your DNA Matches
If you come from a community that had lots of intermarriage between distantly related people, you might wonder how this can affect your DNA match list. This intermarriage is called endogamy, and it means that we might be related to our DNA matches in multiple ways.
It indeed does have an affect on our DNA match list. We share more DNA segments with our cousins descended from our endogamous ancestors.
To learn how to find evidence of endogamy in your DNA match list, definitely check out this article:
# 3 What is a Cousin Once-Removed in Genealogy?
It can be confusing to keep up with cousin relationships. First, second, third cousins – gah! And then some of them are "removed"? What does that even mean?
The following is an article that helps explained the idea of a cousin once-removed. It's easier to understand than you think!
# 4 Why is Family History Important?
Family tree research isn't just a fun hobby – it's so much more. In this post, discover five reasons that family history is important:
I'm thrilled that readers are enjoying this article! Family history is very important to me, and it's wonderful that many others are becoming interested in learning more about their own unique family story.
# 5 What Does Native American Mean on 23andMe?
If you did a DNA test with 23andMe, you may have seen Native American on your results. In the following post, learn exactly what this might mean:
# 6 Why Does My Ancestry DNA Ethnicity Estimate Change?
Most DNA testing companies occasionally update the algorithms used to calculate results, as well as features available to customers. Ancestry DNA does a fairly regular update, and you can learn more about why this occurs in this article:
# 7 How Much DNA Do I Share With My Grandchild?
One of the most amazing things about the advent of DNA testing technology is how it brings generations together. We now see several generations of family members all doing DNA tests, including grandparents and grandchildren.
A common question that comes up is how much DNA a grandparent should share with their grandchildren (or vice-versa):
# 8 Stuck at Home? Learn How to Use DNA for Genealogy
Oh, how I wish that this year would have played out in a different way. I know that we all had things we wanted to achieve this year, and most of us had major disruptions in our lives.
Lots of people are learning to make the best of their circumstances, however, by discovering new hobbies and learning new skills. If you have taken a DNA test, you have the opportunity to use your results to discover a lot about your ancestors:
# 9 All About DNA Segments
DNA segments are the key to understanding DNA matches, and in the following post, you will discover everything that you need to know about the topic:
# 10 Native American DNA Haplogroups
This article is a basic introduction to the haplogroups for mtDNA and Y-DNA that we usually see among Native Americans. If you have distant, direct-line maternal or paternal Native American ancestry that is not showing up on your autosomal DNA results, your haplogroup can provide another research angle for learning about your heritage:
Conclusion
I hope that you enjoyed this list of the top ten most popular blog posts on the WAYMO blog for this year. If you have a question that you would like me to answer in a blog post, please let me know!
You can find my e-mail address on my About Me page – and maybe the post with your question will be in the top ten for next year.
Thanks for reading!