Want to know how to upload to DNA Land? In this easy tutorial, you'll see the steps, and learn exactly what you can discover about your DNA on this fun site.
NOTE: DNA Land permanently shut down in Fall 2021. This post shows how the upload was done, but you will no longer be able to upload your DNA to this site.
I love finding new places to upload my DNA. Even though the DNA Land site isn't necessarily brand-new, it certainly has a new primary purpose.
Plus, I am a huge fan of getting new DNA matches!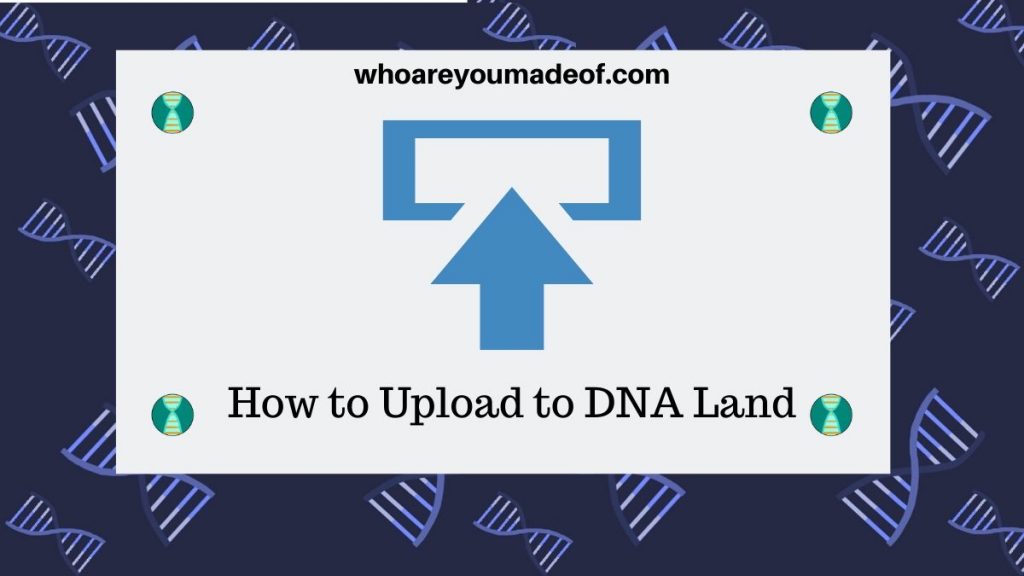 What is DNA Land?
DNA Land began as an academic research project overseen by Columbia University and the New York Genome Center. As of September 30,2019, it is no longer affiliated with either of these institutions, and was re-launched as an independent site.
The new site is non-academic and has a more commercial focus than the previous DNA Land site. Even so, the data we upload will still be used to advance scientific research.
The goal of the new, re-designed and re-launched DNA Land site is to
What if you uploaded to DNA Land before September 29th, 2019?
If you were a DNA Land user who uploaded your DNA before the relaunch date of September 29, 2019, then your data was deleted. All user data from the previous site was deleted because the site is no longer affiliated with the organizations that operated the initial research project.
It's easy enough to upload your data again, however. It took me about five minutes to complete the process – you can see the steps that I took further down in the post.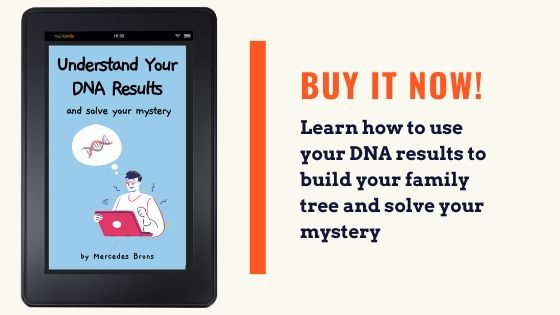 What can you learn from DNA Land?
DNA Land can give us more insight into the DNA that we inherited from our ancestors over the past several hundred years. The most popular feature of the site is the Ancestry Report.
There are other things you can do on the DNA Land site, however. For example, you can find DNA matches and view your shared DNA segment details.
Below is an example of a DNA Land Ancestry Report. It's from my own DNA results: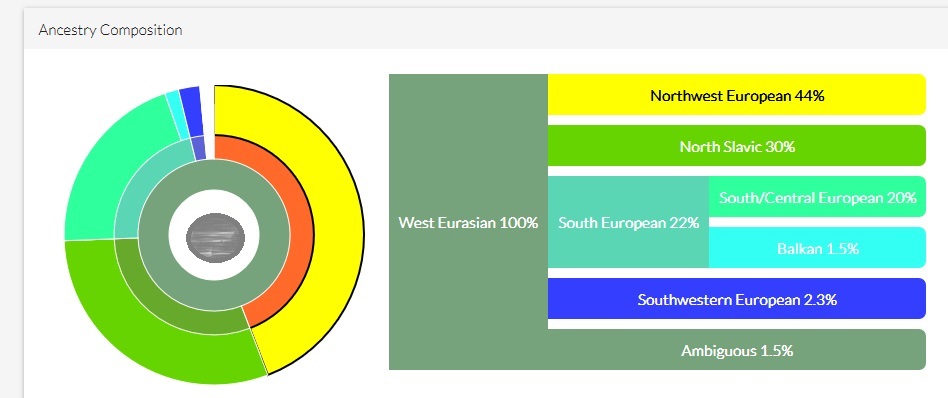 I was pretty impressed with how specific the results were, and how much information the interactive map revealed. My Ancestry Report matches up fairly well with the results that I have received from other DNA testing companies..
How to do an upload to DNA Land
The upload process is fairly simple and you'll find yourself using the site in a matter of a few hours.
Step One
The first thing you need to do is visit the DNA Land website to create a new account. You can access the home page page by visiting dna.land, or clicking here: DNA Land Home Page.
You should see a button that says "LOG-IN/REGISTER" towards the top of the page. This is where you should click in order to be able to register for a new account, if you don't already have one.
Additionally, this is the page where you will log-in, once you have your account.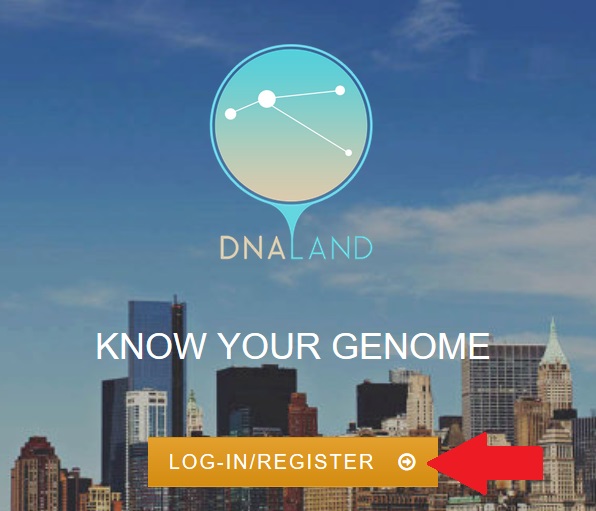 On the log-in/registration page, you will see two separate forms. On the left is the form for creating a new account.
(The form on the right is the one you will use once you already have an account)
Starting with your e-mail address, fill in all of the fields. Be sure the passwords match, and then click "Register".
You will enter personal details associated with your DNA upload in a separate step: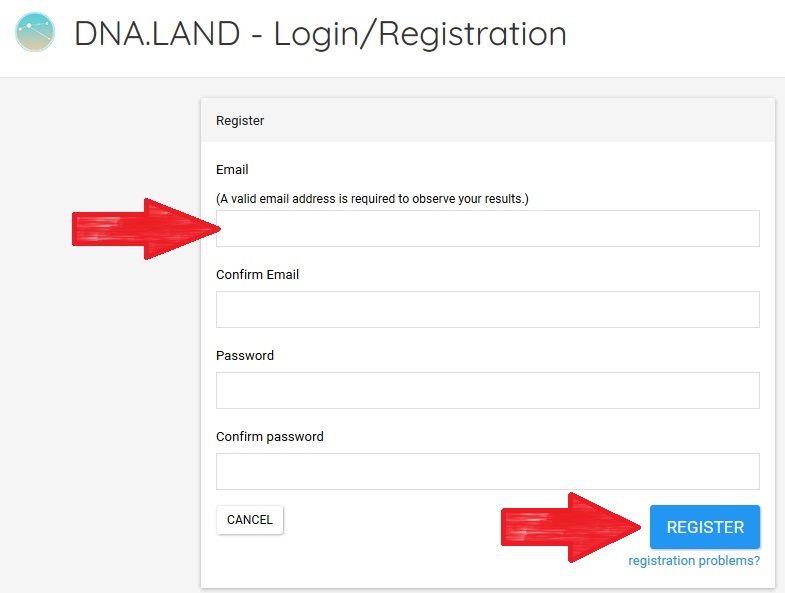 Next, you will need to agree to the terms and conditions of the DNA Land website. I always recommend reading terms and conditions carefully, especially when it comes to the use of our DNA data.
Once you have finished reading, you should scroll to the bottom where you will find a box where you should check (verifying that you understood the information on this page). Then, click "I Agree. Continue":

At this point, you are almost done with your upload!
You must now click on the "Browse" button to choose your DNA file from your computer. It is usually saved in your downloads file.
If you haven't yet downloaded your raw DNA file for uploads to other sites, and you need to know how to do it, these posts can help:
This final step requires you to enter the information associated with the DNA file that you want to upload. Enter the first and last name, as well as the date of birth.
You must also indicate whether the person who gave the DNA sample for the results is male or female.
Finally, be sure to check the two boxes to participate in the Relative Finder feature of the site. Without selecting these boxes, you won't be able to find DNA matches and they won't be able to get in touch with you: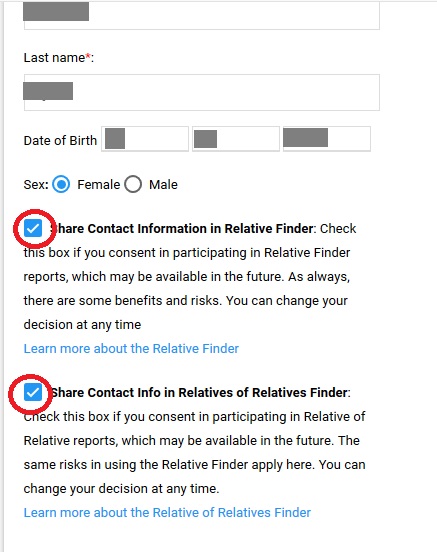 Of course, you can complete your upload without choosing to participate in DNA matching. You can also change this choice in the future, if you would like to opt-in to Relatives Finder at a later date.
On the right side of this screen, you will see a "PROCEED TO DNA.LAND" button. Once you click this button, your upload will be complete.

You now just need to wait for a few hours before checking back to see if your results are ready.
How long does it take to receive DNA Land results?
My DNA upload, which I completed on May 14, 2020, took less than two hours to complete, upon which time I was able to see my results. It may have been even faster, but I stepped away from the computer to give it time to do it's processing.
According to information on the DNA Land FAQ page, it appears as if the processing time should take less than 24 hours. However, if there are more than average users uploading in a given day, processing time could take a little longer.
If your upload has taken more than a week to process, the help page recommends reaching out to them.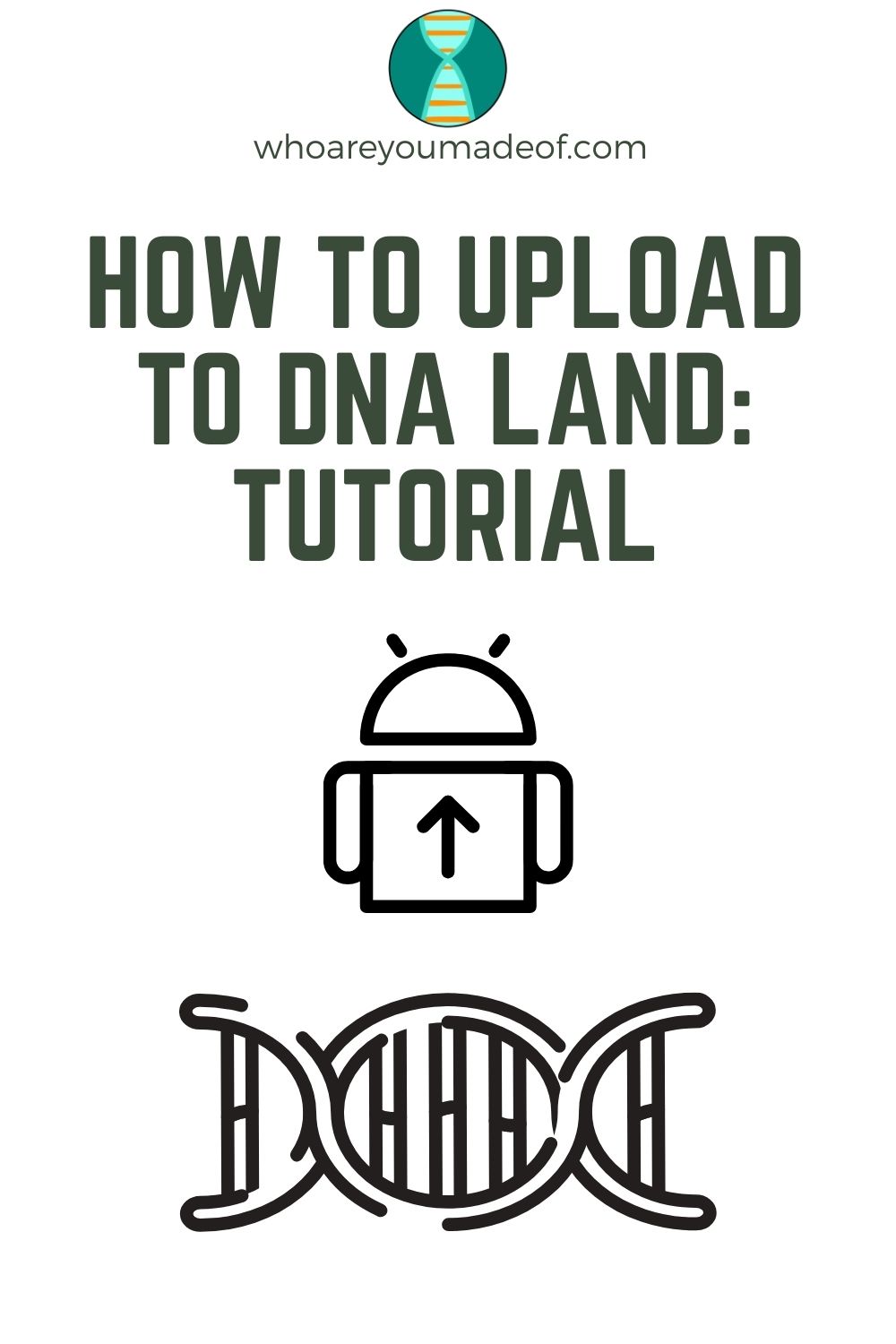 Conclusion
I hope that this post has helped you understand exactly how to upload to DNA Land, and has answered your questions about the topic. If you have any additional questions, please post them in the discussion below.
Thanks for reading this post today 🙂