Are you wondering how to get an ethnicity estimate test? Perhaps you have friends and family who have told you about their ethnicity estimates, and you'd like to get one for yourself.
An ethnicity estimate is a great way to get a snapshot of where your family likely lived over the past few hundred years.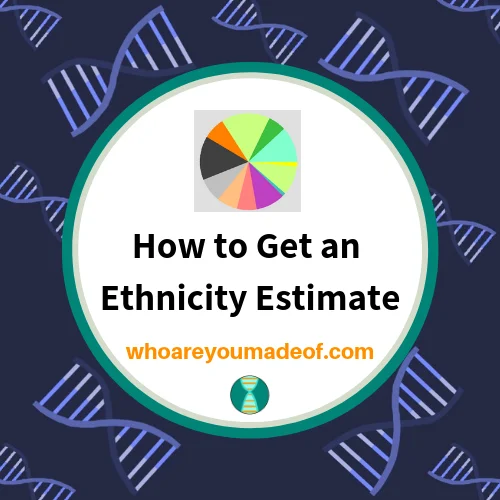 So, how do you get an ethnicity estimate? The first step is to decide which DNA testing company you would like to do a test with. I'll explain a little bit about each company offering ethnicity estimates below so you can decide which is the best fit for what you are looking for.
A popular question is whether you can get an ethnicity estimate for free. Towards the end of the post, I'll answer that question for you.
What is an ethnicity estimate anyway?
An ethnicity estimate is an estimate of where your ancestors likely lived in the past 200-500 years. Ethnicity estimates can also show where some of our ancestors lived even further back than 500 years.
Every DNA testing company has developed proprietary reference panels made up of DNA samples from thousands of people who have verified ancestry for hundreds of years in a particular region and who have voluntarily allowed their DNA to be used for this purpose. By comparing
your DNA with the reference panels for different regions, the companies are able to determine, with varying degrees of confidence, which regions most closely match your unique DNA.
What does an ethnicity estimate look like? Check out mine in the image below. It's from Ancestry DNA.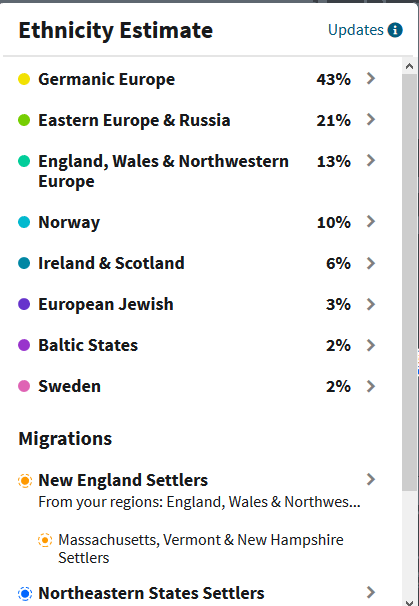 It's important to know that we don't share DNA with all of our ancestors. We inherited 50% of each of our parent's DNA, which means that testing companies can only provide results that match the DNA that we actually have (not the DNA that didn't get passed down to us).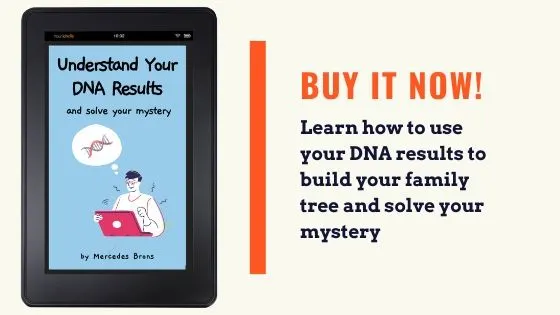 Which companies offer ethnicity estimates?
There are five companies that I recommend for ethnicity estimates. They are Ancestry DNA, 23andMe, Living DNA, Family Tree DNA, and My Heritage DNA. Each of these companies offers an ethnicity estimate, although each company has its own term for ethnicity estimate. It might be called "ancestry composition" or "family ancestry", but the basic idea is the same.
Where can you get the most accurate ethnicity estimate?
All of the five companies that I listed above offer good quality DNA testing and relatively accurate ethnicity estimates. I can't currently recommend any company that is not on the list, even though there are lots of newer companies that are trying to establish themselves. Instead, I prefer to direct my readers towards established companies that have a proven track-record.
You can order a DNA test using any of the links below. I may receive a very small commission that helps me support this site, and it is at no extra cost to you, so thank you!
Is there a way to find out your ethnicity for free?
Sadly, it's rare to find a company willing to give you a DNA test for free. If I ever learn of a company offering free DNA testing, I will be sure to include it in this post. Occasionally, there are research studies that offer free DNA testing in exchange for consent to use DNA for research purposes.
Even though you will have to pay for your initial DNA test (if you want to get an ethnicity estimate), there are several ways to get additional ethnicity estimates from other companies or websites for free.
When you do a DNA test, you are generally allowed the access to download your raw DNA information in the form of a file. You can then upload this file to other DNA testing companies or websites that offer ethnicity calculators. This is a fantastic way to learn more from your DNA than you would otherwise be able to from just one DNA test.
In other words, you can get several ethnicity estimates by only investing in one DNA test. Since you can get a DNA test for as low as about $59, it's a fairly inexpensive way to get a pretty complete picture of your recent ancestry.
What else do you get with the DNA test for ethnicity?
The best part of doing a DNA test, no matter which company you choose to test with, is that you get access to more than just an ethnicity estimate.
All of the following companies offer ethnicity estimates, as I mentioned before. Along with being able to tell you where your ancestors most likely lived over the past few hundred years, Ancestry DNA, Family Tree DNA, and My Heritage DNA offer DNA matches. 23andMe and Living DNA offer DNA matches plus your mtDNA and Y-DNA haplogroups (Y-DNA for males only).
With your DNA results, you can teach your family about your recent history. You can also use your DNA results to help build a family tree, if you are interested in genealogy research. If you already have a family tree, you can actually use your DNA results to help verify your family tree. If you are interested in DNA testing for genealogical purposes, I would strongly recommend reading my post, "DNA Testing for Beginners: The Ultimate Strategy."
Are ethnicity estimates accurate?
As I mentioned, our ethnicity estimates can only show results for the DNA information that is contained within our genome. We didn't inherit all of our parent's DNA, and they didn't get all of their parent's DNA, and so on, and so on.
Even though we won't share DNA with all of our ancestors, we did inherit at least some DNA from all of our recent ancestors, going back as far as about great-great-great-great grandparents. Most of our 4th great-grandparents were probably born about 200-250 years ago.
The technology that DNA testing companies use to determine our ethnicity estimates has improved drastically, and so the estimates are pretty accurate – especially considering the fact that we didn't inherit DNA from every single ancestor in our family tree.
Conclusion
I hope that this post helped you understand more about ethnicity estimates and how to go about getting one for yourself.
If you have any questions about something that you read in this post, or if you would like to add your own experience with ethnicity estimates, please feel free to join us in the discussion below.
Thanks for being here today!