It's easy to download your 23andMe data, and in this post, I'll teach you how to do it. Plus, you'll learn why you should download your 23andMe data, and what you can do with your data once you have it on your computer.
Can you download your 23andMe data to a smartphone?
Yes, you can easily follow the following steps outlined below to download your raw 23andMe data to a smartphone or a computer.
As we know, websites sometimes look a little different on a phone versus a desktop with a bigger screen, but the 23andMe website is very intuitive and is set up to work much in the same way, no matter how you choose to access the site.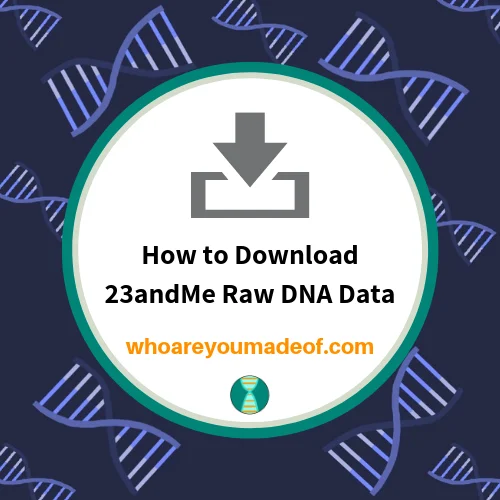 Why download 23andMe raw data?
23andMe is one of the best DNA testing companies on the market. You can learn so much from your results, why would you want to download your DNA?
Reasons you should download your 23andMe data:
You can upload your DNA to other websites for analysis and to get many more DNA matches
Ensure you always have a copy of your DNA to data to further your research
Have a copy to leave to future generations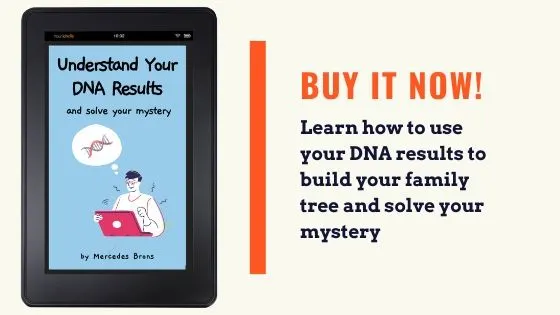 Steps to download raw DNA data from 23andMe

Downloading your 23andMe data is a very easy process! In just a few steps that will only take a couple of minutes, you will have your DNA file on your hard drive.
Step One – Login to your 23andMe account
You can log in to your 23andMe account by visiting this link:
Step Two – visit your 23andMe test settings
You will now need to locate your 23andMe test settings. Click on the the little down arrow next to your name in the upper right corner of the screen. A drop-down menu will appear, and you will then be able to click on the "settings" option.
In the image below, you can see exactly where you should click on your screen:

Step Three – locate your 23andMe raw data
Now that you are on your settings page, scroll all the way down to the bottom of the page to locate the link to access your 23andMe data. There is a lot on this page, but you have to scroll past everything to get what we are looking for.
Towards the bottom of the page, you'll see a section that is titled "23andMe Data". Click "View", as shown in the image below:

Step Four – choose which 23andMe data you would like to download
Can I just take a moment to say that I really love 23andMe? The test results are so informative, and this means that there are a few types of data that we could download.
You could choose to download:
Reports summary
DNA relatives data
Raw DNA data
Profile data
Which do we want? While you could download all of this data and store it in a file folder on your computer (recommended), this article focuses on the last option on the data download list: Raw DNA data.
The raw DNA data file is what you will need, generally, to upload to other sites to get more DNA matches, etc.
To download your raw DNA data, click on the blue "Download Raw Data" button, as indicated by the red arrow in the image below:

Step Five – Browse raw DNA data or submit request to download
This is (almost) the final step. You are now on the screen where you can either browse your 23andMe data (super cool!) or submit a request to download the raw file.
For our purposes today, we want to submit the request to download. You can do this by ensuring that you are displaying the "Download" tab on your screen (instead of the "Browse" tab), and clicking the blue "Submit request" towards the bottom of the screen.
In the image below, you can see exactly where the "Submit request" button is located on your desktop screen: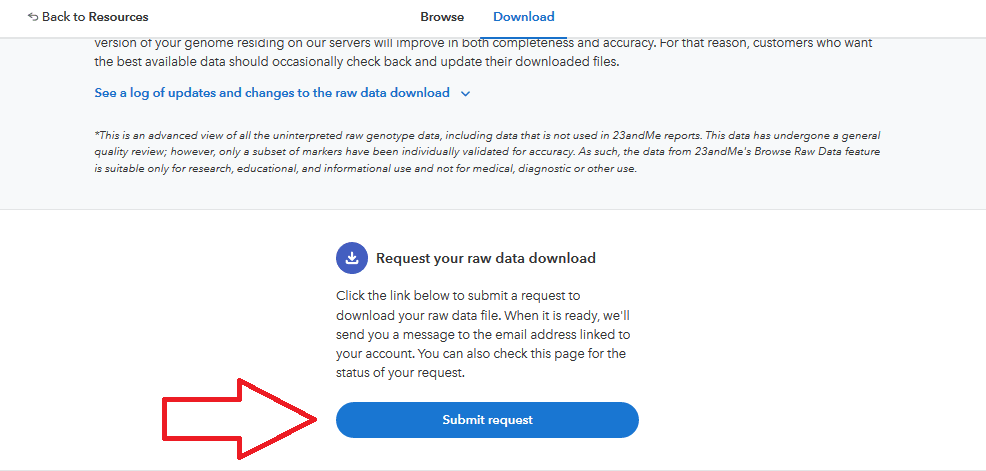 After you click the "Submit request" button, you will see a message on your screen that instructs you to wait for an e-mail with instructions about how to download your data. It should only take a few minutes for 23andMe to prepare your download and send you an e-mail.
Step Six: Check your e-mail for your 23andMe download link
When you get the e-mail, open it up and click the green "Download Raw Data" button. You will be taken to the 23andMe website where you will be able to complete the final step to really, actually, and finally download your data.
Click the blue "Download Raw Data" button, as shown in the image below:

Once you click that final download button, you will be prompted to save the file to your computer or other device, and it will generally be stored wherever your downloads are usually located.
You are done!
What to do with 23andme raw data?
There are many options for learning more from your raw 23andMe data. My favorites?
You can also read my post about websites where you can upload your raw DNA data to learn more:
Conclusion
I hope that this post has helped you understand how to download your 23andMe data, and what you can do with that data once you've gone through the process.
If you have any questions about something that you read in this post, or would like to share your own experience using 23andMe raw data to learn additional information, I would love to hear from you in the comments below.
Thanks for stopping by!