Do you need a new place to build a family tree? Why not download the My Heritage Family Tree Builder to use on your computer? I've recently discovered this family tree building software, and in this post, I'll talk a little bit about how to use it and give you the link for the free download.
Some of the quick highlights of the Family Tree Builder?
It's completely free to build your tree as big as you want it to be!
Do you want to be able to print charts and reports about your tree? This software can help you do so, and it's easy.
You can sync your family tree from the software to your online My Heritage site so your family members can view it. you can control who can see it with the privacy settings.
You can import your Gedcom right into the software (you can download your Gedcom from Ancestry or other site to import to this software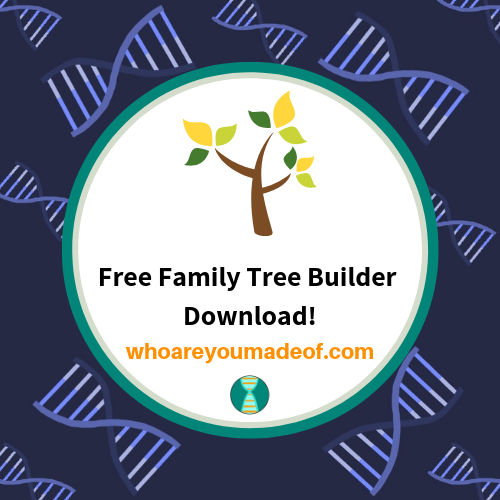 If you want to go ahead and try it out without reading the rest of this post, you can use the link below. I'll include it again at the end of this article for those who want to learn more first 🙂
You can get your free Family Tree Builder download from My Heritage using the following sponsored link: Get Family Tree Builder Today!
It took me about three minutes to get started using the software. I already had a copy of my Gedcom on my computer, so it might take a few more minutes if you have to go through that step.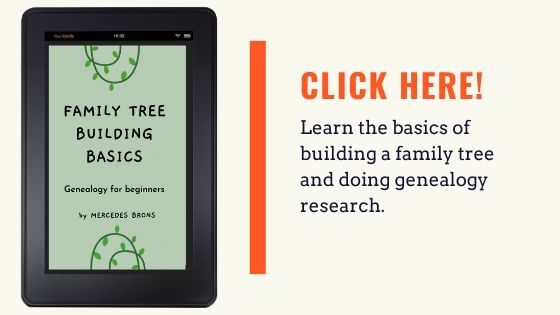 Family Tree Builder has no limit on size
I tested out the software with an older version of my family tree that had just over 2,000 people in it. It was done importing my tree within just a few seconds, and I was able to navigate around my tree with no problem.
No size limit! Awesome.
Family Tree Builder helps you own your family tree
While I definitely love websites that allow you to build a family tree, I understand that some people prefer to have family tree software that they can use on their computer.
One of the top benefits of building your tree on your computer (versus a website)? You don't need internet access to work on your tree. Since the software is completely stored on your computer's hard drive, you can continue to work on genealogy when you don't have access to the internet.
I've also found that navigating through my tree on Family Tree Builder is generally faster than it is on some of the websites that I use. I don't have to wait for pages to load, etc, since it is all on my laptop.
The easiest way to print an ancestors chart?
One of the reasons I wanted to give this software a try was to see if it would be easy to print a chart to send to my little sister. She lives in another country and I don't get to talk to her as much as I would like to about our ancestors.
It was very easy for me to create a printable chart to send to her via e-mail. I included six generations on the chart, but you can include as many as you want. There are also a lot of different options for design, and you can even change the language the chart uses for text.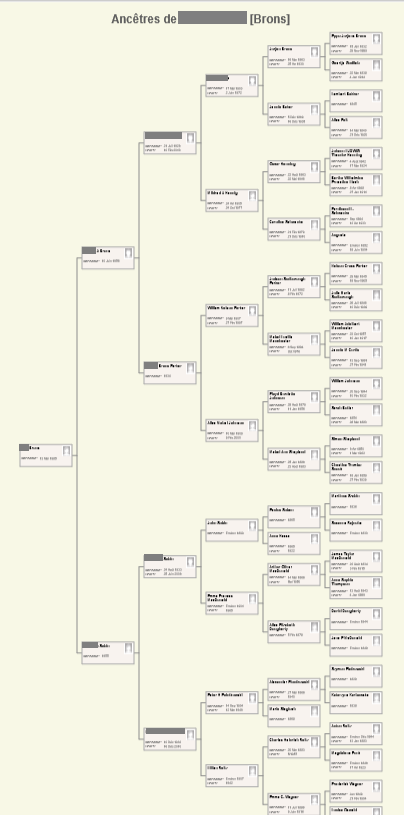 Since my sister lives in a French-speaking country, I made her chart in French. I felt cool because je ne parle pas français!
It might seem silly that this was one of the aspects of the software that I was most excited about trying. I love family tree research, but it's so hard to find visually appealing ways to share what I learn with my relatives. So, it's cool to find dozens of different charts that I can make to share with anyone who might be interested.
Do you need a subscription to My Heritage to use the software?
No, you don't need a subscription to use the Family Tree Builder software. It's completely free to use almost every aspect of the software.
Some of the more advanced features (like matching with records and other family trees) do require a subscription, and it is worth it if you are interested in really taking your research to the next level.
You can get a free trial by using the following sponsored link: Get the My Heritage Complete Plan . I may get a commission if you sign up for a free trial, and it helps me support this website.
Ready for your Family Tree Builder free download?
You can get your free Family Tree Builder download from My Heritage using the following sponsored link: Get Family Tree Builder Today!
Conclusion
Now that I have finished writing this post, I think I may have to do a tutorial on the most helpful features of the software. It's pretty cool!
If you have tried the Family Tree Builder software from My Heritage, or if you have a question about something you read in this post, I would love to hear from you in the discussion below.
Thanks for being here today!