Do you want to know if Ancestry DNA matches in other countries will show up on your results? Does Ancestry DNA work internationally? In this post, find the answer to these questions – and more!
Finding relatives in other countries in one of the best aspects of DNA testing. I have found and communicated with DNA matches in Poland, Serbia, United Kingdom, Canada, Germany and even Brazil.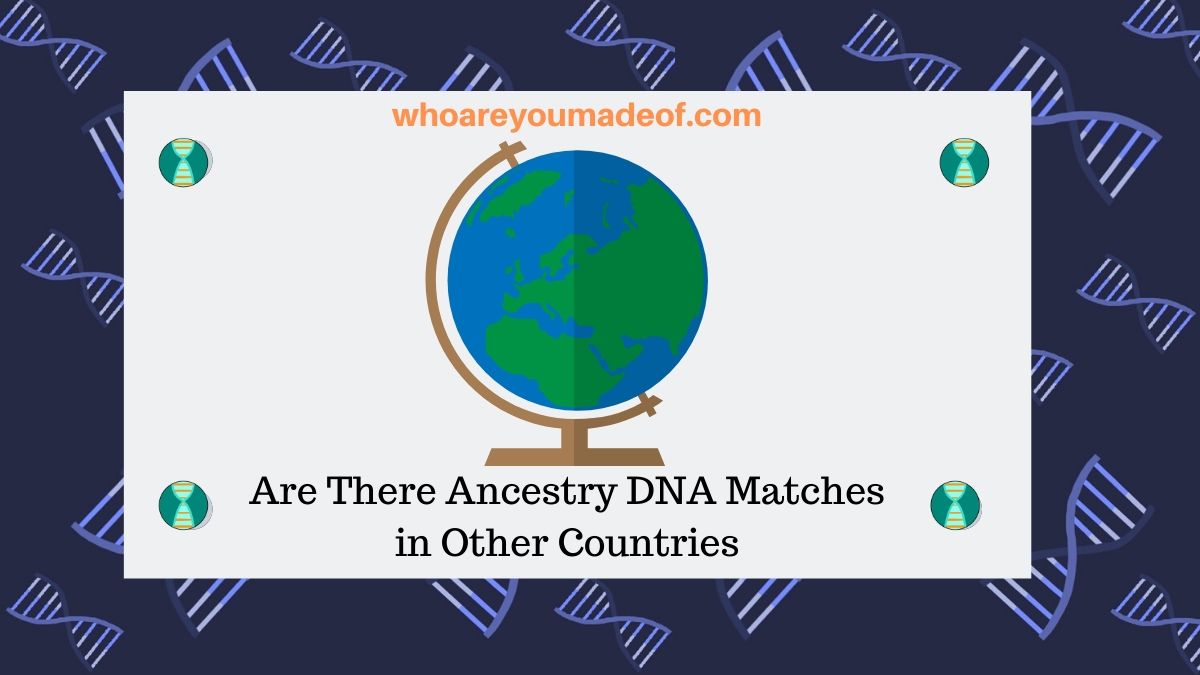 You can learn so much from your DNA matches in other countries, especially those relatives who still live in the same geographic area where your common ancestors lived. Imagine receiving photographs and descriptions of your ancestors' hometown, or having a place to visit if you ever decide to travel to your ancestors' native country.
Additionally, your international cousins might have information, documents, and records pertaining to your ancestors. The connections you make with your DNA matches, whether domestic or international, can prove invaluable to genealogy research.
Does Ancestry DNA work internationally?
Yes. Ancestry DNA is sold internationally from the United States. People who live in many countries can purchase DNA tests from Ancestry DNA.
DNA testing is growing in popularity across the world, but it remains most popular in the United States. This means that most of the people who have tested with Ancestry DNA live in the United States.
Even though you are statistically less likely to find many international DNA matches, it only takes one or two matches to break down brick walls in your family tree. This makes finding international matches a worthwhile endeavor.
If you have known relatives in other countries, why not encourage them to take an Ancestry DNA test to build the database of international matches?
In which countries is Ancestry DNA sold?
According to Ancestry DNA, the test kits are sold from the United States but can be shipped to more than 30 countries worldwide. Below, you can see the countries where people can receive the Ancestry DNA kit by mail.
Albania
Armenia
Australia
Austria
Bulgaria
Canada
Croatia
Cyprus
Czech Republic
Denmark
Estonia
Finland
Georgia
Germany
Greece
Hungary
Ireland
Lichtenstein
Lithuania
Malta
Netherlands
New Zealand
Norway
Poland
Romania
San Marino
Slovakia
Slovenia
South Korea
Sweden
Turkey
United Kingdom
United States
Vatican City
There may be alternate ways for people who live in countries that are not on the list above to take an Ancestry DNA test. I know lots of people who travel back to see family and bring DNA tests with them in order to test family members.
It is very important to know that every country has laws pertaining to DNA testing and biological samples. Before you decide to try to ship or bring a DNA test to another country, research the laws applicable.
For example, DNA testing in private laboratories, even if the laboratory is overseas, is currently (2019) illegal in France. You can receive up to one-year in prison and a fine of 15,000 Euros (16,737 US).
This doesn't mean that you won't find French DNA matches, since there are lots of creative French people who have found ways to do an Ancestry DNA test.
The popularity, legality, and expense of DNA testing are factors in whether your relatives in a particular country are likely to have done an Ancestry DNA test.
Will international Ancestry DNA matches show up?
Since Ancestry DNA test kits are all sold through the US Ancestry DNA site, all of your DNA matches, no matter where they happen to live, will show up on your DNA match list.
This is good news for all of us with recent ancestry in other countries. Can you imagine having to buy a DNA test kit for each country where you suspect you might have DNA matches?
If this were the case, I would have to buy DNA kits for Ireland, United Kingdom, Slovakia, Poland, and Germany.
Fortunately, I don't have to spend hundreds of dollars to buy multiple DNA kits. All of my DNA matches from those countries will show up on my DNA match list.
That is, if they take the Ancestry DNA test. Many of my Eastern European relatives have not yet taken DNA tests.
If you don't have many international matches at first, don't worry. Ancestry DNA consistently updates our DNA match list as new people test and show up as genetic matches for existing customers.
My DNA match list has grow exponentially since I first tested in 2016. The number of people who are related to me at an estimated fourth cousin or closer level has increased 1362% since I initially got my results.
Talk about value!
How to get an Ancestry DNA test
If you are ready to get an Ancestry DNA test and find out if you have international DNA matches, you can get your test by using the link below. I will receive a very small commission (very small!) that helps me support the work that I do on this site.
You can use this sponsored link to order your Ancestry DNA kit: Discover the story AncestryDNA® can tell.
Conclusion
I hope that this post has helped answer your questions about whether Ancestry DNA works internationally, and whether your DNA matches from other countries will show up on your DNA match list.
If you have any questions about something that you read in this post, or if you would like to share your experience searching for family connections in other countries, I would love to hear from you in the discussion below.
Thank you for stopping by!