If you are anything like me, you were excited to finally get placed into an Ancestry DNA Circle. A DNA Circle is like the ultimate in genetic genealogy: validation that your research is correct, and that your family tree has the right people on it. It almost feels like a digital extended family reunion, with all of these somewhat distant cousins realizing that they are all connected to each other through an ancestor long passed. It's completely normal to feel shock, confusion, and disappointment if you see an Ancestry DNA Circle disappear.
In this post, I will explain:
What does it mean if a DNA Circle disappears
Reasons why Ancestry DNA Circles disappear
What you can do to try to get your DNA Circles back
There will be no talk of mysterious algorithm changes or conspiracies from the Ancestry powers-that-be in this post. I'll tell you exactly what you need to know to understand why your circles are gone.
Before we go on, double-check to make sure that:
Your Ancestry tree is set to public
You have not disabled the Ancestry DNA matching feature
Your DNA results are connected to your public family tree
You have not deleted the DNA Circle ancestor from your family tree
If you are missing any of the above, then your DNA Circles will disappear. If you realize that you accidentally set your tree to private, for example, your DNA Circles should come back after a few days (and sometimes even more quickly).
What does it mean if a DNA Circle disappears?
Does it mean that you aren't really related to the ancestor? Is there a non-paternity event somewhere back in your family tree? Help!
I know you want your circle back. We all do. But first, you need to know how you got the circle in the first place:
You built an accurate family tree that goes back 3-5 generations, at least
Your tree is public
Your tree is connected with your DNA results
You have many DNA matches with accurate family trees
Your DNA matches' trees are public and go back several generations
Your DNA matches have connected their DNA with their trees
Your DNA matches' DNA matches also have extensive and accurate public family trees connected to their DNA results
If all of the above occurs, and a good number of those public family trees that are all attached to DNA results contain the same common ancestor, there is a good chance that you will be included in a DNA Circle for that ancestor. According to Ancestry DNA, there should be at least three family units all connected to the same ancestor in order for the DNA Circle to form. DNA matches closer than a second cousin don't count towards forming the DNA circle, though they might be included in one if there are enough 2nd cousins (and more distant) who have tested to form one.
If your DNA Circle disappears, all it means is that some aspect of those circumstances that had to align for you to get placed into the DNA Circle is no longer available. It doesn't mean that your family tree is wrong. It doesn't mean that you have to delete that ancestor from your tree. DNA Circles are most useful for finding living relatives that might not share DNA with you, but are still related to you because they descend from your common ancestor, and as such, they have no real weight in determining whether you are really descended from a particular person.
There's nothing to worry about if a circle appears permanently, or if it appears and comes back sometimes. Also, there is nothing to worry about if you never get assigned to any DNA Circles.
If you are interested to find out the most common reasons that a DNA Circle disappears, keep reading.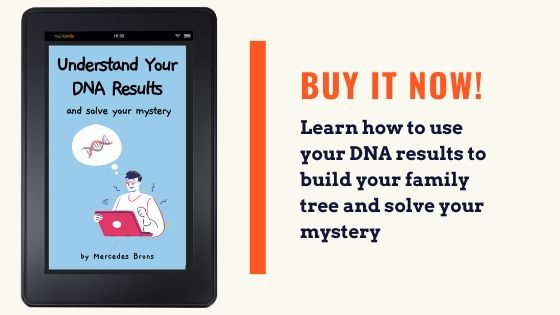 Most common reasons why DNA Circles disappear
One or more of your DNA matches, or matches to the circle made their family tree private and caused the total number of family units in the circle to fall to a number lower than three. This is a really common cause of DNA Circles disappearing and then reappearing. People make their trees private for all sorts of reasons, and then sometimes they make them public again. Sometimes, they realize that they have to have a public tree in order to have DNA Circles, for example.
A member of the circle unattached their DNA results from their tree. People do this a lot when they are building mirror trees, or doing other types of research on their tree. If they are experimenting, they might want to un-link their tree. The result of this, if it causes the number of family units in your circle to fall below three, would be that the DNA Circle would disappear until it rose above three again.
Someone from your DNA Circle might have removed the ancestor from their family tree. Maybe they don't feel sure they are really descended from this ancestor, so they delete their ancestor's name from the tree. If this reduces the number of family units in your circle to below three, the circle will be gone.
The least common reason that a DNA Circle disappears would be that one of the members either deleted their results from Ancestry's database, or opted out of DNA matches (which is something that is possible as of 2018). If a member of the circle does this, and there are no longer at least three members of the circle, it will be gone until a new family unit tests (and has a tree, and matches you, etc…)
Your DNA Circles might come back as soon as a new DNA match tests, as long as they have a public tree attached to their results. As more and more people do the Ancestry DNA test, I would expect for the average number of DNA Circles to grow, and for more members to be included in each one.
How to facilitate getting your DNA Circles back
DNA Circles are finicky and sensitive creatures, and there isn't much that you can do on your end to get your circle back. But I do have a few suggestions that just might work for you:
Ask some of your extended family (2nd cousins and further) to consider taking a DNA test to help with family tree research. Tell them that their DNA will be drastically different than yours, and that they will have lots of DNA matches that are descended from your common ancestors, but that don't match you.
Gently encourage your DNA matches that have public trees to attach them to their DNA results. You can do this by initiating contact and eventually asking them if they would consider taking that small step of attaching their results. I would not ask this in the first message (read about contacting DNA matches).
If you have been in touch with some of your DNA matches, but they don't have trees on Ancestry, ask them if they would like your help in building their tree, or at least if they would like information to get started on building a tree – and remind them to make it public (you can explain to them about DNA Circles if they don't already know).
Conclusion
I hope that this post helped you understand just a bit more about how the Ancestry DNA Circles work, why yours have disappeared, and whether they will come back. If you have any questions about something that you read in this post, please feel free to leave a comment below – I hope to hear from you.
Thanks for stopping by!