Upload to My Heritage before December – Urgent!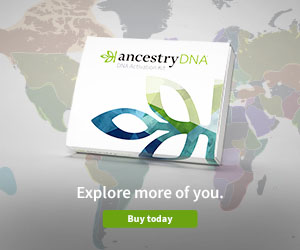 Have you uploaded your DNA to My Heritage?  My Heritage DNA has a lot to offer those of us who have already done DNA tests, including amazing DNA matches, a chromosome browser, and ethnicity estimates that could provide you with additional information about your ancestry.  In this post, I'll tell you why you should upload your DNA to My Heritage before December 31, 2018.  If you end up reading this post after December 1, I'll explain why you should still do your upload.
Full disclosure:  I have no business relationship with My Heritage – I just really love their service!
Why upload before December to My Heritage?
If you choose to upload your DNA before December, you will receive free access to all of the features that the DNA part of the site has to offer, including:
DNA matches
ethnicity estimate
chromosome browser
You can upload your own DNA and DNA files for your friends and relatives if they have given you their permission to do so.  It's easy to manage several kits from one account.  I personally have seven DNA kits on my own account belonging to family members who have given me permission to manage their test for them.
What's so great about My Heritage?
My Heritage offers a place to test your DNA, a chromosome browser, ethnicity estimates, as well as a place to build you family and search records.  Similar to Ancestry DNA's offering, it's a one-stop-shop for everything genealogy – including autosomal DNA testing.
Many people find it helpful to get an alternate ethnicity estimate, and My Heritage has made extensive improvements to their reference population and algorithm.  The accuracy of their ethnicity estimates have improved substantially, and so I find it a very helpful bit of information to add to our genetic genealogy toolbox:
What's my favorite aspect of My Heritage DNA results?  To be honest, I can't choose.  There are so many things that I enjoy about my results, like the fact that you can see how many DNA matches you have all over the world.  If I only want to see my DNA matches in the Netherlands, I'll just click on there to all my Dutch family.
I also love how I can use the chromosome browser on My Heritage and the triangulated segments to do more advanced genetic genealogy, like chromosome mapping (I love DNA Painter for this):
You can read my full post about an example of My Heritage DNA results, if you are still on the fence about whether to upload there.  They have been so helpful to my own family's research, and I recommend uploading to everyone.
Can I upload Living DNA and 23 and Me to My Heritage?
The is the second piece of big news to come out from My Heritage DNA this week.  They are now able to access uploads from 23 and Me and Living DNA.  23 and Me and Living DNA use an advanced chip to perform DNA testing, and until now, My Heritage DNA did not have the technology to process DNA uploads that were tested using this process.  Their new algorithm fixed this, and they are now able to accept free uploads from these companies.
The same deadline applies, however, to people who tested with 23 and Me and Living DNA.  Those who upload before December 1, 2018 will have access to all of the features that are currently available for free, and will be grandfathered in to this, even when things change in the future for DNA uploads.
What happens if I upload my DNA to My Heritage after December 1, 2018?
If you decide to wait until after December 1, 2018, or you just found out about this and it's too late to get all of the free features, you can still upload to the site and get access to a lot of great information.
You'll still get DNA matches for free, which I consider to be the most valuable aspect of DNA testing.  You won't have chromosome information, however.
After December 1, 2018, you'll have to pay a fee (the amount of this fee has not been announced) to access all of the site's soon-to-be-paid features, which include:
ethnicity estimates
chromosome browser
Access to family history records and building large family trees on the site have always been paid features, and this will continue.
How to upload DNA to My Heritage
I'm glad you have decided you would like to upload your DNA to My Heritage!  To get started, you can go right to their DNA upload page (click here to access it).  If you need some help figuring out how to download your data or do your upload, you can read my post, "How to Upload to My Heritage DNA" to learn more.
Conclusion
I hope that this post helped you understand why you should upload to My Heritage DNA and why you should try to do it before December 1, 2018.  Even if you don't do it before December, it's still worth doing.  You'll get a lot of great information that will really help you research your family tree and get the most from your DNA.  If you have any questions about something that you read in this post, I would love to hear from you in the discussion below.
To learn more, check out my "DNA Tools" page where I have compiled resources about how learn from your DNA results and get started with genetic genealogy.
Thanks for stopping by!