Upload DNA to Living DNA – Time Sensitive!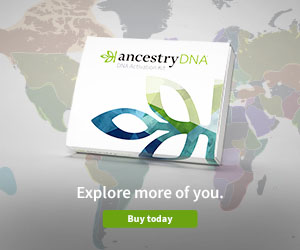 Living DNA is a long-established UK company that has recently begun offering DNA testing for US-based users.  They are a unique company and have a lot to offer for anyone interested in DNA testing.
For those of you who have already done a DNA test with another company, they have an especially cool deal.  You can upload your DNA to Living DNA to get free DNA matches. The end date for getting an ethnicity breakdown for free, without having to purchase a DNA kit, was October 1, 2018.
Those readers reading this post after October 31, 2018 will still be able to upload their DNA to Living DNA, but they will only receive DNA matches and will not be able to get the free ethnicity breakdown. There are plans to offer an upgrade results to receive an ethnicity estimate/breakdown for a fee, but specific details about this have not been confirmed.
Note: This article was updated on 2/12/2018 to correct an error. The original post stated that the end date for the free ethnicity breakdown was October 31, 2018. This was incorrect and the correct date is reflected above. I apologize for any confusion and inconvenience that occurred due to this typo.
Which DNA testing company files can Living DNA accept?
As of August, 2018, Living DNA accepts uploads from people who tested their DNA with the following companies:
AncestryDNA,
23andMe
MyHeritage
FTDNA
If you didn't test with any of the above companies, I would really recommend considering doing so – it's how you'll get the most reliable, accurate, and comprehensive DNA match list and ethnicity/ancestry report.
How to upload to Living DNA?
Important note: This post was originally written to describe a special deal to celebrate the partnership between two great companies (Living DNA and Find My Past).
To get started with your Living DNA upload, you'll need to click on the link below. You can also follow the instructions in my post, "How to Upload to Living DNA."
Click on the following link to access the upload link for the Find My Past and Living DNA partnership – you'll have to scroll at least half-way down the page to where it says "Already done an ancestry DNA test?". Just click on the blue "Upload Your DNA Data" button to get started:
Living DNA/Find My Past DNA Upload
After you access the upload page, you'll have to:
Create an account
Consent to allowing Living DNA to access and use your DNA data
Enter DNA test taker's details
Upload DNA file
When you get to the page where you have to enter the DNA test taker's details, it asks for information about parents, grandparents, etc. You can enter whatever you know, whatever you are comfortable with, or whatever you have time for. There is no requirement for all of the details to be completely filled in.
Why upload to Living DNA?
When you are looking for DNA matches, the best plan is to have your DNA in all of the DNA databases. I love it when companies offer the chance for people to upload their DNA instead of having to do a completely new DNA test. It saves time and much-needed cash.
Those of us who are doing family tree research or who are searching for a particular person with whom we likely share DNA will greatly benefit uploading our DNA to Living DNA. Their database is growing in size, and I will be excited to see my Living DNA match list grow over time.
How much does it cost to upload to Living DNA?
DNA matching and ethnicity breakdown will be available for free for those who upload before October 1, 2018.  After this date, Living DNA plans to continue to accept free DNA transfers/uploads. There are plans to offer an upgrade to free upload accounts that will allow access to an ethnicity breakdown, but I don't yet know for sure when this is scheduled to occur.
A note on Ethnicity Percentages for those who uploaded in time for the free estimate
It's important to recognize that ethnicity estimates will almost always vary across companies.  These estimates are based on complicated algorithms designed using reference panels made up from many DNA samples given from people from regions all over the world.  The reference panels that each companies use, the technology they use to compare them with yours, and the individual DNA samples used in the process will give different end results – they could vary slightly or dramatically. 
I like to get as many "second opinions" as possible, however, since I feel like each company has something unique to offer.
Can you upload more than one test to Living DNA?
If you are like me, you are one of the only individuals in your family interested in really understanding DNA results. This means that you might want to upload several DNA tests, which you can absolutely do with Living DNA. For living adults over the age of 18, Living DNA will require their name and e-mail address so they can provide consent for you to upload and manage their Living DNA results. You can upload your child's or deceased relative's DNA, too.
How long does it take to get Living DNA results?
For many people who uploaded DNA, it may take a while to get your DNA results and matches.  Living DNA is working on processing all of the many uploads that they have received thus far as fast as possible, and they are rolling out DNA matching in small groups.
Uploading to Living DNA requires patience (which is, of course, a virtue!), but I'm counting on many of you being very happy with the results of the wait.
What to do while waiting for your Living DNA results?
Even though you have to wait to get your Living DNA results, don't fret.  There are many things that you can do while you are waiting for your results to come back, and you'll be in a better position to learn from them after exploring the following ideas:
Conclusion
I hope that this post got you a little bit excited about Living DNA and that you will go ahead and do an upload. If you decide to do one and you get your results, I would love to hear from you in the discussion below.
Thanks so much for stopping by today!